Elevated Plastic Box Trucks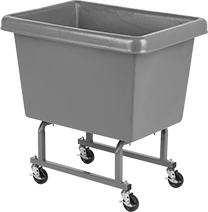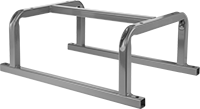 Replacement Base

Replacement Caster
Reduce bending while loading and unloading —elevated trucks provide a comfortable working height. Made of lightweight plastic, these trucks resist dents, corrosion, and many chemicals. The seamless body is strong enough for wet and dry loads. It prevents leaks and can be cleaned with hot water and detergent. They have four swivel casters with shock-absorbing rubber wheels for easy maneuvering over smooth and rough surfaces.
O'all




Cap.,




lbs.

Volume


Cap.,




cu.

ft.

Lg.

Wd.

Ht.

Lg.

Wd.

Ht.

Wheel
Configuration
Caster
Mount
Type

Dia.

Material
Type
Choose
a Body
Color
Each
Each

Polyethylene Plastic Body and Steel Frame

400
5
26"
18"
18

1/4

"
30"
22"
29

3/4

"
Four Swivel Casters
Replaceable
3"
Rubber
Solid
0000000
0000000
00000000
000000
400
7
30"
20"
20

1/2

"
32

1/2

"
22"
32

1/4

"
Four Swivel Casters
Replaceable
3"
Rubber
Solid
0000000
000000
00000000
00000
Spring Platform Plastic Box Trucks
To minimize bending and lifting, these trucks have a spring platform that adjusts to a comfortable working height as you load and unload. Made of lightweight polyethylene, they resist dents, corrosions, and many chemicals. Because they have a drain hole and the spring platform is removable, they're easy to clean with hot water and detergent. The rubber tread-on-core wheels roll smoothly on all surfaces—they have a hard core for strength and a tread that absorbs shocks and sounds.
Trucks with side entry have an opening on one side, so you don't have to reach over the top to load and unload. Trucks with a lid and side door let you cover the top and side openings; secure them with a padlock.
Trucks with a silver-ion finish resist deterioration, stains, and odors caused by mold and mildew.
Trucks with only swivel casters are easier to maneuver than trucks with rigid casters. Trucks with swivel and rigid casters have better steering control than trucks with only swivel casters.
For technical drawings and 3-D models, click on a part number.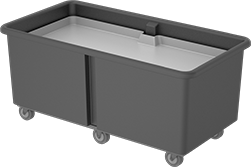 Two Swivel and
Four Rigid Casters

O'all




Cap.,

lbs.

Volume


Cap.,

cu.

ft.

Lg.

Wd.

Ht.

Lg.

Wd.

Ht.

Caster
Mount Type
Wheel


Dia.

Body
Color
Each

Polyethylene Plastic Body and Black

Powder-Coated

Steel Frame

130
31
62"
31"
24"
66"
35"
30

3/8

"
Replaceable
5"
Black
00000000
000000000
Box Trucks with Side Entry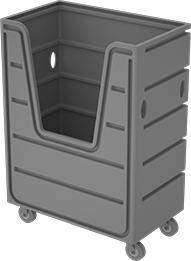 Box Truck
with Side Entry
O'all




Cap.,

lbs.

Volume


Cap.,




cu.

ft.

Lg.

Wd.

Ht.

Lg.

Wd.

Ht.

Caster
Mount
Type
Wheel


Dia.

Body
Finish
Body
Color
Each

Polyethylene Plastic Body and Black

Powder-Coated

Steel Frame

800
35
47

1/2

"
28"
58

3/4

"
48"
28

1/2

"
66

5/8

"
Replaceable
6"
Silver Ion
Blue
00000000
000000000
Box Trucks with Side Entry, Side Door, and Lid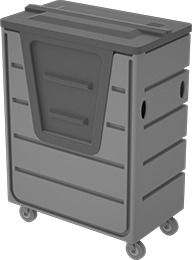 Box Truck
with Side
Entry,
Side
Door,
and Lid
O'all




Cap.,

lbs.

Volume


Cap.,




cu.

ft.

Lg.

Wd.

Ht.

Lg.

Wd.

Ht.

Caster
Mount
Type
Wheel


Dia.

Body
Finish
Body
Color
Each

Polyethylene Plastic Body and Black

Powder-Coated

Steel Frame

800
35
47

1/2

"
28"
58

3/4

"
48"
28

1/2

"
66

5/8

"
Replaceable
6"
Silver Ion
Blue
00000000
000000000