Shielded Ethernet Cords
The shielding on these cords blocks signal interference from nearby equipment and devices. They send data between computers, printers, servers, and switches. For faster data transmission speeds, choose a cord with a higher industry designation category. They're backward compatible, so they work in networks that meet the same or a lower category.
Cords with braid and foil shielding have better protection than cords with only foil shielding, which is especially important for higher transmission speeds or longer lengths of cord. However, the added shielding increases cord diameter and reduces flexibility.
For technical drawings and 3-D models, click on a part number.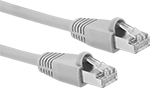 Lg.,




ft.

Transmission
Frequency
Wire
Gauge
Cord
OD
Temperature


Range,

°F

Color
Each

Category 7 with Braid and Foil Shielding

1
600 MHz
26
0.24"
35° to 140°
Blue
00000000
000000
3
600 MHz
26
0.22"
15° to 140°
Blue
00000000
00000
5
600 MHz
26
0.24"
35° to 140°
Blue
00000000
00000
7
600 MHz
26
0.22"
15° to 140°
Blue
00000000
00000
10
600 MHz
26
0.22"
15° to 140°
Blue
00000000
00000
25
600 MHz
26
0.22"
15° to 140°
Blue
00000000
00000
50
600 MHz
26
0.24"
35° to 140°
Blue
00000000
00000
100
600 MHz
26
0.24"
35° to 140°
Blue
00000000
000000