Ethernet Cords with M12 and RJ45 Connectors
Send data between computers, printers, servers, and switches with these cords—they have an M12 plug or socket on one end and an RJ45 plug on the other. The M12 plug or socket is rated IP67 to withstand washdowns and temporary submersion. These cords are backward compatible, so they work in networks that meet the same or a lower category.
Double-shielded cords have a layer of braid that blocks signal interference from nearby equipment and devices.
Cords with a 90° elbow plug fit flush against equipment, so they fit behind machinery or in areas where space is tight.
For technical drawings and 3-D models, click on a part number.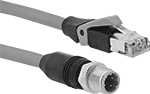 Lg.,




ft.

Number
of Poles
Transmission
Speed
Wire
Gauge
Cord
OD
Shielding
Shield Type
Temperature


Range,

°F

Color
Each
82
4
100 MHz
24
0.26"
Double Shielded
Braid, Foil
-40° to 175°
Blue
00000000
0000000
82
8
100 MHz
24
0.3"
Double Shielded
Braid, Foil
-40° to 175°
Blue
00000000
000000
82
8
500 MHz
26
0.29"
Double Shielded
Braid, Foil
-40° to 175°
Blue
00000000
000000
90° Elbow M12 Plug × RJ45 Plug

90° Elbow
M12
Plug ×
RJ45 Plug



Lg.,




ft.

Number
of Poles
Transmission
Speed
Wire
Gauge
Cord
OD
Shielding
Shield Type
Temperature


Range,

°F

Color
Each
82
4
100 MHz
24
0.26"
Double Shielded
Braid, Foil
-40° to 175°
Blue
00000000
0000000
82
8
100 MHz
24
0.3"
Double Shielded
Braid, Foil
-40° to 175°
Blue
00000000
000000
82
8
500 MHz
26
0.29"
Double Shielded
Braid, Foil
-40° to 175°
Blue
00000000
000000