About Air Conditioner Cooling Capacity
Enclosure-Cooling

Heat Exchangers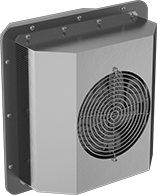 Cool the air in your enclosure to protect electronic components from excessive heat. These heat exchangers absorb heat in the enclosure, then use cooler air outside the enclosure to draw the heat away, lowering the temperature inside. Unlike a fan, they seal out outside air, so dust, moisture, and other contaminants can't get in. Because they use ambient air to cool the enclosure, heat exchangers use less energy and are less likely to cause condensation than air conditioners.
Heat exchangers rated NEMA 4X and IP56 are made of stainless steel to resist corrosion in the harshest environments. They stand up to weather, washdowns, and corrosive chemicals.
All of these heat exchangers meet American and Canadian safety standards. CE marked heat exchangers also meet European safety standards.
For technical drawings and 3-D models, click on a part number.
Cooling


Capacity,




Btu/hr.

Airflow,


cfm

Wattage,


W

Current,


A
Height
Width
Depth
Height
Width
Material
Thermostat
Included
For
Use
Outdoors
Mounting
Fasteners
Included
Specifications
Met

Each

120V

AC,

Single

Phase,

50Hz/60Hz—

Three-Prong

Plug

1,400
Not Rated
80
0.7
12"
12"
8"
11"
11"
Stainless Steel
No
Yes
Yes
UL Listed
C-UL Listed
CE Marked

0000000
000000000
High-Flow

Low-Pressure

Compressed Air Blowers
Also known as regenerative blowers, use these to produce high-flow compressed air with low pressure or vacuum to operate pump drives, lift tables, and conveying systems. Compressed air blowers are also used for drying, exhausting, and aeration.
Air circulates inside the blower housing to compress air, which generates pressure or vacuum. Single-stage blowers circulate air once and then exhaust.
Inverter-rated blowers have a motor that can run at slow speeds without overheating, so they can be used with a motor speed control (variable frequency drive).
For technical drawings and 3-D models, click on a part number.
Single Stage
Maximum
Pressure

Max.

Flow
Rate
@ psi
Vacuum
Rating
hp
Full
Load
Current

Vol.,


dB

Lg.

Wd.

Ht.

Temp.




Range,




° F

Inlet
Outlet
Each
Each
Each

Single

Phase,

120/208/230V

AC

NPT Female Inlet and Outlet

2 psi
52 in. of H2O
92 cfm @ 0
3.5 in. of Hg
48 in. of H2O
1
9.8 A @ 115 V AC
5.2 A @ 208 V AC
4.9 A @ 230 V AC
68
13"
11"
12"
32° to 100°
1

1/2

1

1/2

0000000
0000000
00000000
0000000
00000000
0000000

Single

Phase,

120/230V

AC

NPT Female Inlet and Outlet

3 psi
76 in. of H2O
102 cfm @ 0
5.3 in. of Hg
72 in. of H2O
1

1/2

14.0 A @ 115 V AC
7.0 A @ 230 V AC
64
12"
11"
12"
5° to 100°
1

1/2

1

1/2

0000000
00000000
000000
00
000000
00

Three

Phase,

190/230/380/460V

AC

(Inverter Rated)

NPT Female Inlet and Outlet

2 psi
56 in. of H2O
103 cfm @ 0
4.1 in. of Hg
56 in. of H2O
1
4.4 A @ 190 V AC
3.7 A @ 230 V AC
2.2 A @ 380 V AC
2.1 A @ 460 V AC
64
11"
11"
12"
32° to 100°
1

1/2

1

1/2

0000000
00000000
000000
00
000000
00

Three

Phase,

208/230/460V

AC

NPT Female Inlet and Outlet

2 psi
52 in. of H2O
92 cfm @ 0
3.5 in. of Hg
48 in. of H2O
1
3.4 A @ 208 V AC
3.2 A @ 230 V AC
1.6 A @ 460 V AC
68
13"
11"
12"
32° to 100°
1

1/2

1

1/2

0000000
000000
00000000
000000
00000000
000000