Measured in decibels (dB), volume ratings indicate how much noise equipment makes. Some common volume levels include a whisper @ 20 dB, a refrigerator @ 40 dB, a conversation @ 60 dB, and a light machine shop @ 90 dB. OSHA recommends hearing protection for exposure to 80 dB and greater.
Belt-Drive

Downdraft

Roof-Mount

Exhaust Fans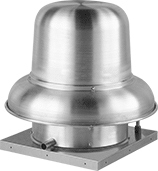 Belt-drive fans are quieter and have a longer life span than direct-drive fans because components can be replaced if worn or damaged. More economical than upblast roof-mount exhaust fans, these draw stagnant and humid air out through your roof and then direct it back toward the roof. All fans have a disconnect switch to turn off the power for servicing.
Note: Airflow depends on the resistance created by ductwork. This resistance, known as static pressure (SP), is measured in inches of water.
Blade


Dia.

Airflow @
Static
Pressure
Volume
Motor


Speed,


rpm

Power,


hp

Dia.

Ht.

Base


Wd.

Housing
Material
Specifications
Met
Each
Each

Open Dripproof Motor Enclosure

208-230/460V

AC,

Three

Phase—

Hardwire

25"
6,500 cfm @

1/2

in. of H₂O
7,300 cfm @ 0 in. of H₂O
48 dB @ 15 ft.
775
1

1/2

42

1/2

"
37

3/4

"
33"
Aluminum
ETL Listed

0000000
000000000
0000000
0000000