Ratchet Jacks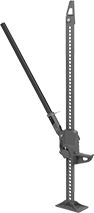 These jacks can be used to lift, spread, push, pull, and clamp. The ratcheting action raises or lowers the load one notch at a time. For clamping, turn the top plate 90° and ratchet the jack to secure your workpiece.
Note: Jacks must be loaded with at least 150 lbs. to safely lower your load one notch at a time. When loaded with less than 150 lbs., the notches are bypassed and the load will drop freely.
Warning: Never use to support people or loads over people.
For technical drawings and 3-D models, click on a part number.
Max.,


tons

Range,




lbs.

Max.


Clamping


Force,

lbs.

Ht.

Max.


Lift

Lg.

Wd.

Lg.

Wd.

Handle


Lg.

Handle
Material
Body
Material
Fasteners
Included

No.


of
Holes
Hole


Dia.

Each
1

1/4

150-2,500
750
4

1/2

"-49

3/4

"
45

1/4

"
4

1/2

"
1

3/8

"
7"
4"
32"
Steel
Iron
No
12

1/2

"
000000
0000000
2

1/4

150-4,500
750
4

1/2

"-38

5/8

"
34

1/8

"
4

1/2

"
1

3/8

"
7"
4"
32"
Steel
Iron
No
12

1/2

"
000000
000000