About Selecting Wool Felt
About Durometer Hardness Scales
Soft Felt Sheets and Strips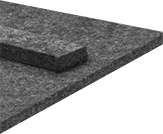 The higher the wool fiber content, the better the vibration absorption and abrasion resistance.
Use F10 and F13 felt for grease and oil retention. F10 felt absorbs grease and oil even when compressed.
F26 felt is the softest wool felt we offer and is often used for packing and padding applications where the felt will be held between other materials.
Soft Felt Lining Sheets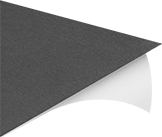 Line toolboxes and drawers to cushion and protect small parts.
Wd.

Thick.

Wool Fiber
Content

Density,




lbs./sq.

yd.

Temperature


Range,

°F

Adhesive
Type
Adhesive
Temperature


Range,

°F

Choose
a
Color

Lg.

Max.




Lg.,




ft.

Each
24"

3/64

"
40%
0.38
-80° to 300°
Acrylic
-40° to 180°
32"
__
000000
000000
Per

Ft.

32"

3/64

"
40%
0.38
-80° to 300°
Acrylic
-40° to 180°
__
48
000000
00000

1
Press these bumpers into place with the adhesive backing. Use them as feet and spacers on instruments and small appliances to limit sliding, vibration, and noise. They're comparable to Bumpon bumpers.
Bumpers with a soft rating offer cushioning. Felt bumpers protect surfaces from scuffs. They are not for use outdoors.
For technical drawings and 3-D models, click on a part number.

1
OD

Ht.

Temp.




Range,




°F

For
Use
Outdoors
Hardness
Rating
Hardness
Nonmarking
Choose
a
Color

Pkg.




Qty.

Pkg.

Felt

1/2

"

1/8

"
0° to 140°
No
Soft
Durometer 20A
Yes
500
000000
00000

3/4

"

1/8

"
0° to 140°
No
Soft
Durometer 20A
Yes
500
000000
00000
1"

1/8

"
0° to 140°
No
Soft
Durometer 20A
Yes
500
000000
00000