Wire Partitions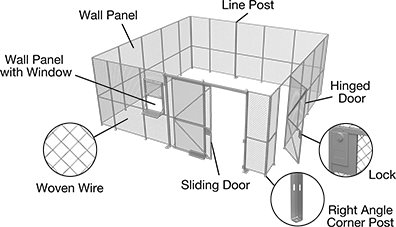 Create secure but visible tool and stock rooms.
Tee-Joint Kit–Allows you to attach wall panels perpendicularly, often in order to make smaller areas within a larger wire enclosure.
To Order–Please feel free to contact us or e-mail your drawing to chi.sales@mcmaster.com if you would like help determining what components you'll need.
1. Make a rough drawing of your partition, including overall width, depth, and height (7-, 8-, 10-, or 12-ft high).
2. Indicate location, size, and style of door panels.
3. Determine the number and width of wall panels needed. For in-between widths, you may require adjustable filler panels.
4. Order a right-angle corner post for each 90°corner. For corners other than 90°, order an adjustable corner post.
5. Order a line post for every 10 feet or every other panel.
6. If your partition will make use of an existing wall, order one wall mounting kit for each panel you'll connect to a wall.