Easy-to-Assemble

Wire Partitions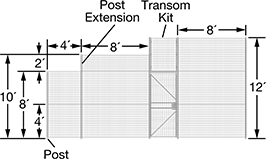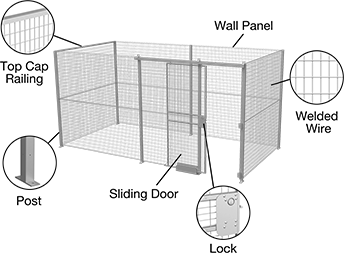 To Order – Please feel free to contact us or email us your drawing if you would like help determining what components you'll need.
1. Make a rough drawing of your partition, including overall width, depth, and height.
2. Indicate location, size, and style of door panels. Choose from hinged and sliding doors. Door opening directions are determined when standing outside the partition. If you want to fill the space above the doors on 10- and 12-ft. high partitions, order one transom kit per door. Transoms can be cut to match your door width.
3. Determine the number of wall panels you'll need. Wall panels can be stacked to reach desired partition height and cut if you need them to be less than 4- or 8-ft. wide between posts.
4. Use posts between each wall panel, on both sides of doors, and at corners. Order extensions to make 10- or 12-ft. high posts.
5. For added support and a more finished look, add top cap rails to panels. They can be cut to length.
6. If your partition will make use of an existing wall, order one wall mounting kit for each panel you'll connect to the wall.