3D Printer

Air Filtering and Conditioning Enclosures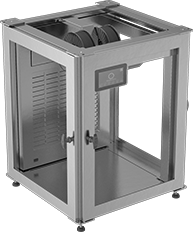 Protect the health of nearby workers and maintain ideal operating conditions for your 3D printer. To keep your workspace's air clean, these enclosures filter harmful fumes, VOCs, and ultrafine particles that are common when working with filaments such as ABS and nylon. The enclosure's door is sealed with silicone rubber to keep fumes inside the enclosure.
Control Your Printing Environment
Because printing conditions that are too cold make weak parts, these enclosures retain the heat created by the printer. The warmth gives the printed layers time to strengthen and bond before cooling. Set the thermal overload protection, and you won't have to worry about the enclosure overheating. If the enclosure gets too warm, a sensor cuts power to the printer to avoid failed prints and dangerous conditions. It's also known as a thermal runaway cutoff.
Manage the enclosure's various settings—filter status, temperature shutoff, fan speed, lights, and WiFi—from the enclosure's touchscreen. The screen also displays the moisture level inside the enclosure. Add a dehumidifier cartridge (sold separately) or other desiccant to keep your filament dry, strong, and flexible. Dehumidifier cartridges have rechargeable desiccant beads. When the desiccant beads change from orange to green, heat them in the microwave to recharge.
Connect To Your Computer
Connect the printer to a computer using the through-wall USB port, and the enclosure stays sealed. The printer connects to the port on one side of the wall, and the computer connects on the other. A similar port connects your printer's power cord. Safely check on the progress of your prints from your computer using the video camera.
Protect Your Printer and Prints
Lightweight and strong, these enclosures have an aluminum frame, honeycomb floor, and clear, impact-resistant windows. A lock on the door prevents unwanted users from accessing your printer and work.
Specifications Met
Made to high domestic and international safety standards, these enclosures meet UL 62368-1 and are CE marked. The filter system meets UL 94 V-0 for flame resistance.
Airflow,


cfm

Ht.

Wd.

Dp.

Ht.

Wd.

Dp.

Filter
Efficiency
Removes Particle
Size Down


To,

microns
Environment


Temp.


Range
Includes
Specifications
Met
For
Removing
Assembled
or
Unassembled
Each

120V

AC/240V

AC—

Three-Prong

Plug

Powder-Coated

Aluminum—

Silicone Rubber Seal

150
37

3/8

"
31

1/2

"
31

7/8

"
31

7/8

"
23

5/8

"
23

5/8

"
99.95%
0.015
16° C to 27° C

60° F to 80° F

Disposable After-Filter, Disposable HEPA Filter, Tool Kit
UL 94 V-0, CE Marked, UL 62368-1
Dust and Particles, Odors and Fumes
Assembled
0000000
000000000
150
37

3/8

"
40

1/8

"
40

1/8

"
31

7/8

"
31

7/8

"
31

7/8

"
99.95%
0.015
16° C to 27° C

60° F to 80° F

Disposable After-Filter, Disposable HEPA Filter, Tool Kit
UL 94 V-0, CE Marked, UL 62368-1
Dust and Particles, Odors and Fumes
Assembled
0000000
00000000
Cleaning 3D Printer Filaments

Clear your 3D printer's extruder with these cleaning filaments. The compound in the filaments bonds to leftover material, flushing it out as the compound passes through. Run a filament through your extruder before switching to a new printing job to remove old materials or colors that could bleed over or jam the printer. Even if you're not changing jobs, use these filaments to periodically purge residue from your system to keep it printing smoothly. At 8" long, each filament is sized for a single use, so there's no need to cut them to size.
3D Printer

Portable Air Cleaners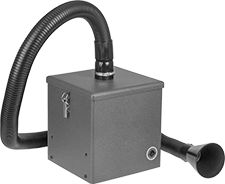 Draw particles and filament fumes away from open-frame 3D printers without cooling off printed parts. Unlike standard air cleaners, which create airflow strong enough to cool the print area and warp your parts, these low-airflow cleaners won't disrupt your print. A three-part filtering process keeps you from breathing harmful emissions: a prefilter traps large particles, then a combination HEPA and activated carbon filter captures both fine particles and fumes. These CE marked cleaners meet health, safety, and environmental protection standards for products.
Attach the included hose and funnel to the cleaner to pull fumes directly from your printer. These compact, lightweight cleaners fit into most work areas, and are quiet enough for office use. The powder-coated steel housing holds up over a long service life.
Airflow,


cfm
Volume

Current,


A
Voltage
For Inlet
Duct


Dia.

Ht.

Wd.

Dp.

Housing
Material

Lg.,




ft.

Material
Cord


Lg.,




ft.

Includes
Each
26
44 dB @ 3 ft.
0.2
120V AC
2"
13

1/4

"
11

1/4

"
11"
Powder-Coated Steel
6
Plastic
6
Combination HEPA/Chemical Filter (Captures 99.99% of particles down to 0.03 microns), Disposable Prefilter
0000000
0000000