Fiber Optic Tool Kits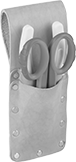 Shown in Leather Pouch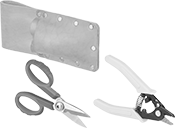 Cut and strip fiber-optic cables. The wire cutter in these kits has high-carbon stainless steel blades that are strong enough to cut through optic fibers, wire insulation, and cable ties. Use the notched blade on the cutter to remove wire jackets. The wire stripper has three openings, each to strip different thicknesses of fiber-optic cable jackets and buffer coatings. Strip a cable down to the glass fiber using the smallest opening.
Gauge

Type
Material
Material
Style
Includes
Each
31, 19, 14-9
Kevlar, Soft Wire, Solid, Stranded
Stainless Steel
Plastic
Cushion
5 1/2" Lg. Wire Cutter
6" Lg. Wire Stripper
Leather Pouch with Belt Loop
0000000
000000
Fiber-Optic

Cable Scissors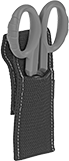 Shown in Nylon Pouch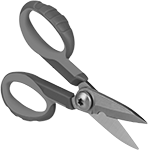 With high-carbon stainless steel blades, these scissors cut through fiber-optic and electrical cables, even those that are made with Kevlar. They're also good for cutting wire jackets and cable ties. Use the wire-cutting notch to hold your items in place, so they won't slip as you cut them. Attach the pouch to your belt to keep these scissors close at hand.
Blade
Edge
Features
Overall
Length
Cut
Length
Blade
Material
Handle
Material
Handle
Type
Opening
Style
Handedness
Blade
Tip
Shape
Includes
Each

For Use On

Fabric,

Kevlar,

Plastic

Serrated/Straight
Wire-Cutting Notch
5

1/2

"
1

5/8

"
Stainless Steel
Plastic
Straight
Manual
Right, Left
Pointed
Nylon Pouch with Belt Loop
0000000
000000