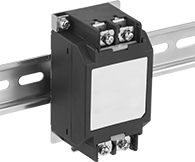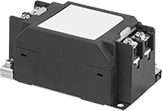 Surface Mount

Retractable Terminal Cover
Protect electronic devices from harmful electromagnetic interference (EMI) that's often caused by power supplies, computers, motors, and lighting. Also known as noise filters. A retractable terminal cover guards you from live circuits and allows easy access to terminals for maintenance. All of these filters have passed strict U.S., Canadian, European Union, and international safety standards.
When selecting a filter, make sure the maximum current can handle the requirements of your device.
Use DIN-rail mount filters in industrial cabinets or electrical panels.
Max.




Current,


A

Ht.

Wd.

Dp.

Temperature


Range,




°F

Specifications
Met
Fasteners
Included

No.


of
Holes
Hole


Dia.

Each
DIN Rail Mounting
Fasteners
Included
Each

Single

Phase—

250V AC

Max.

Voltage

Screw Terminals Input and Output

4
3.6"
2.1"
1.6"
-10° to 185°
UL Recognized Component, C-UL Recognized Component, ENEC Marked, VDE Certified
No
2

3/16

"
00000000
000000
Yes
00000000
000000
6
3.6"
2.1"
1.6"
-10° to 185°
UL Recognized Component, C-UL Recognized Component, ENEC Marked, VDE Certified
No
2

3/16

"
00000000
00000
Yes
00000000
00000
10
3.6"
2.1"
1.6"
-10° to 185°
UL Recognized Component, C-UL Recognized Component, ENEC Marked, VDE Certified
No
2

3/16

"
00000000
00000
Yes
00000000
00000
16
3.6"
2.1"
1.6"
-10° to 185°
UL Recognized Component, C-UL Recognized Component, ENEC Marked, VDE Certified
No
2

3/16

"
00000000
00000
Yes
00000000
00000
20
3.6"
2.1"
1.6"
-10° to 185°
UL Recognized Component, C-UL Recognized Component, ENEC Marked, VDE Certified
No
2

3/16

"
00000000
00000
Yes
00000000
00000
30
3.6"
2.1"
1.6"
-10° to 185°
UL Recognized Component, C-UL Recognized Component, ENEC Marked, VDE Certified
No
2

3/16

"
00000000
00000
Yes
00000000
00000