For Use With

For Use With
Show
For Use With

For Use With
Hide
Warning: Products have one, but not necessarily all, of the selected characteristics.
Mask Coverage

Mask Coverage
Mask Material

Mask Material
Assigned Protection Factor

Assigned Protection Factor
NIOSH Approval

NIOSH Approval
DFARS (Defense Acquisition Regulations Supplement)

DFARS

(Defense

Acquisition
Regulations

Supplement)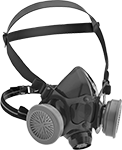 A
Replace the cartridge and/or filter when breathing through these half-face respirators becomes difficult.
P100 respirators resist oil exposure for up to 40 hours and filter out 99.97% of solid particles.
Silicone rubber respirators are a good choice for comfort during periods of extended wear. Replacement cartridges for P100 nitrile rubber respirators come with a filter.
Style
Filter
Rating
For
Use
With
NIOSH
Approval
Mask
Material
Choose
a
Size
Each

Pkg.

A
P100
Solid Particles
TC-84A-0592
Silicone Rubber
0000000
000000
000000000
000000