About Calculating the Airflow Required for Air Cleaning
Fume Hoods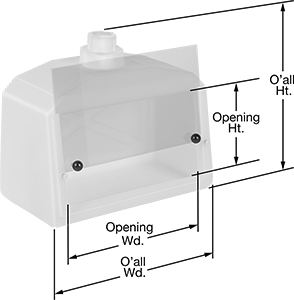 Polyethylene Hood with Adjustable Sliding Window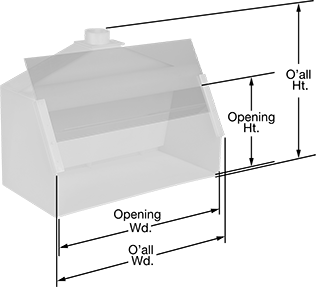 Polypropylene Hood with Adjustable Sliding Window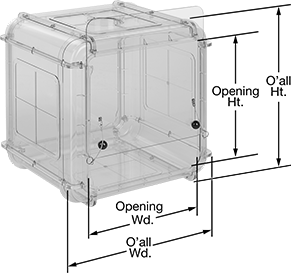 Polycarbonate Hood with Adjustable Sliding Window
Pair these hoods with an exhaust system to contain harmful fumes, vapors, and gasses while venting them away from work spaces—they protect users from inhaling or coming in contact with them. To access the enclosed space, these hoods have an adjustable sliding window, which also lets your exhaust system pull air from the outside. Polycarbonate windows are more durable than acrylic windows. All of these hoods resist chemicals and corrosion.
Polyethylene hoods have a molded one-piece construction with rounded inside corners to prevent gaps and crevices, making them easy to wipe clean.
Polypropylene hoods are nonconductive. They're also translucent, so they let in more light than polyethylene hoods for added visibility.
Polycarbonate hoods are dent and scratch resistant. They're also clear, offering an unobstructed view from all sides.
Recommended


Airflow,


cfm
Height
Width
Depth
Height
Width
Number
of
Material
Clarity
Number
of
OD
Gender
Each

Polyethylene Plastic with Adjustable Sliding Window

200
22"
27"
13"
12"
22"
1
Acrylic Plastic
Clear
1
4", 6"
Male
00000000
0000000
350
30"
42"
20"
14

1/8

"
34

1/2

"
1
Acrylic Plastic
Clear
1
6"
Male
00000000
00000000

Polypropylene Plastic with Adjustable Sliding Window

500
36"
48"
24"
21"
46"
1
Acrylic Plastic
Clear
1
6"
Male
00000000
00000000

Polycarbonate Plastic with Adjustable Sliding Window

200
26

1/8

"
25

7/8

"
24"
13"
20

1/8

"
1
Polycarbonate Plastic
Clear
1
6"
Male
00000000
00000000
200
26

1/8

"
43

7/8

"
24"
13"
38

1/8

"
1
Polycarbonate Plastic
Clear
2
6"
Male
00000000
00000000