About Filters and Particle Sizes
Build-Your-Own

Filter Cartridges for Water
Unscrew the bottom of these cartridges and fill with your own media. Cartridges fit standard filter housings. They can be cleaned for repeated use.
Acid-washed filter media reduces ash content and dust particles.
Filter Cartridges for Reducing Odor and Chlorine in Water
A

B

C

D

E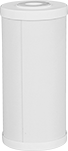 F
Use these cartridges in a filter housing to treat water quality and reduce odor and chlorine in your line.
Pleated cartridges provide a large surface area for high particle retention.
Solid cartridges are for high strength and durability.
Ht.

OD
ID
Removes Particle Size
Down

To,

microns

Max.

Flow


Rate,

gpm

Max.




Temp.,

°F

End Type
Each
A
3

3/4

"
2

5/8

"
1"
5
2
140°
Open on Both Ends
0000000
000000
B
4

7/8

"
2

1/2

"
1"
5
0.5
125°
Open on Both Ends
00000000
0000
B
9

3/4

"
2

1/2

"
1"
5
1
125°
Open on Both Ends
0000000
00000
C
9

3/4

"
2

3/4

"
1"
5
3
125°
Open on Both Ends
0000000
00000
D
9

3/4

"
2

7/8

"
1"
20
1
125°
One Open and One Closed
00000000
00000
E
9

3/4

"
2

5/8

"
1"
1
1
145°
Open on Both Ends
0000000
00000
E
9

3/4

"
2

7/8

"
1"
0.5
0.6
165°
One Open and One Closed
00000000
00000
E
9

3/4

"
2

7/8

"
1"
0.5
1
125°
Open on Both Ends
0000000
00000
E
9

3/4

"
2

7/8

"
1"
5
1
125°
Open on Both Ends
0000000
00000
E
9

3/4

"
2

7/8

"
1"
5
1
180°
Open on Both Ends
0000000
00000
E
9

3/4

"
4

5/8

"
1"
5
2
180°
Open on Both Ends
0000000
00000
E
20"
2

7/8

"
1"
0.5
2
180°
Open on Both Ends
0000000
00000
E
20"
2

7/8

"
1"
5
2
180°
Open on Both Ends
0000000
00000
F
9

3/4

"
4

3/4

"
1"
25
10
100°
Open on Both Ends
0000000
00000
F
20"
4

3/4

"
1"
25
20
100°
Open on Both Ends
0000000
000000