Portable Compressed Air Storage Tanks with
Filter/Dryer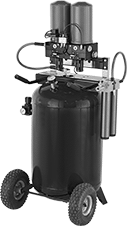 Get clean, dry air wherever you need it. The separator, filter, and dryer mounted on these tanks clean and dry compressed air as you fill it. Once full, move the tank to your workspace on its pneumatic wheels.
Connect your compressor to the separator on the side of the tank. It removes any liquid water from your compressed air to protect the filter, which removes oil and particles. Filtered air passes through the desiccant dryer and into the tank. The dryer can be used continuously without having to dry or replace the desiccant. It can be removed once the tank is full for more portability.
Replace the filter element every six months. Service kits include a filter element, O-rings, and everything else you need to service the filter.
Cap.,




gal.

Max.




Pressure,


psi
Total


No.


of
Gender
Sizes

Dia.

Ht.

Wall


Thick.

Temp.




Range,




°F

Max.


Flow
Rate
Particle
Size
Oil


Content,


ppm
Each
Each

With Mounting Plate

30
175
4
Female

1/4

NPT Port (1 ea.)


1/2

NPT Port (2 ea.)


1/4

NPT Drain Port (1 ea.)
18"
54"

3/32

"
-20° to 150°
28 cfm @ 100 psi
0.01
0.001
0000000
000000000
0000000
000000