Flame-Resistant

Disposable Coveralls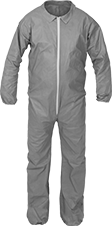 Long Sleeve
Hooded Long Sleeve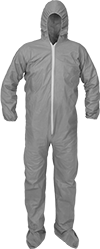 Hooded Long Sleeve with Boot Covers
Made of self-extinguishing Pyrolon, these coveralls help comply with NFPA 2113 standards when worn over flame-resistant clothing. Pyrolon won't melt or drip if intermittently exposed to flames, which reduces the risk of burns. These coveralls provide full body coverage and are breathable to keep you cool while working. They have a zipper down the front.
Open cuffs provide better airflow than elastic cuffs. Elastic cuffs help keep dirt and grime out better than open cuffs.
Use the size chart for general guidance. When choosing a size, consider individual body shape and clothing worn underneath.
Size
For Height
For Weight
L
5'5"-5'10"
140-200 lbs.
XL
5'7"-6'2"
150-220 lbs.
2XL
5'11"-6'4"
180-240 lbs.
3XL
6'2"-6'5"
230-280 lbs.
4XL
6'4"-6'8"
240-300 lbs.
Material
Closure
Type
Cuff
Style
Specifications
Met
Color
Choose a Size
Each

Long Sleeve

Pyrolon Fabric
Zipper
Open
NFPA 2113
Light Blue
0000000
00000
Pyrolon Fabric
Zipper
Elastic
NFPA 2113
Light Blue
0000000
0000

Hooded Long Sleeve

Pyrolon Fabric
Zipper
Elastic
NFPA 2113
Light Blue
0000000
0000

Hooded Long Sleeve with Boot Covers

Pyrolon Fabric
Zipper
Elastic
NFPA 2113
Light Blue
0000000
0000