System of Measurement

System of Measurement
Maximum Temperature

Maximum Temperature
DFARS (Defense Acquisition Regulations Supplement)

DFARS

(Defense

Acquisition
Regulations

Supplement)
High-Temperature

High-Pressure

Graphite Gasket Material
These sheets and discs can withstand temperatures up to 850° F and pressure up to 2,000 psi. Use them when a strong seal is required in boilers and furnaces. Cut with a utility knife.
Discs are graphite with stainless steel layers; this high-strength material is commonly known as Hochdruck.
Ultra-Chemical-Resistant

Compressible PTFE Gasket Material
More compressible than pure PTFE, these expanded PTFE gasket sheets and discs ensure a tight seal. They are chemically inert (except to molten alkali metal and elemental fluorine). Cut with a utility knife or gasket cutter.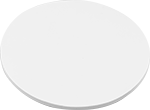 Dia.

Max.




Pressure,

psi
Temperature


Range,

°F

Color
Each
Each
3"
3,000
-450° to 350°
White
0000000
00000
0000000
00000
4"
3,000
-450° to 350°
White
0000000
0000
0000000
00000
6"
3,000
-450° to 350°
White
0000000
00000
0000000
00000
8"
3,000
-450° to 350°
White
0000000
00000
0000000
00000
10"
3,000
-450° to 600°
White
00000000
00000
00000000
00000
12"
3,000
-450° to 350°
White
0000000
00000
0000000
00000
14"
3,000
-450° to 600°
White
00000000
00000
00000000
000000
16"
3,000
-450° to 600°
White
00000000
00000
00000000
000000
18"
3,000
-450° to 600°
White
00000000
000000
00000000
000000
20"
3,000
-450° to 600°
White
00000000
000000
00000000
000000