Flexible Magnets
These flexible magnets are made of corrosion-resistant ceramic and bonded with rubber for flexibility. Use scissors to cut them into custom shapes and sizes.
Rubber adhesive adheres quickly and works especially well on plastics.
Warning: Maximum pull ratings are based on direct contact with rust-free and unpainted iron plate. Variations in material condition will significantly reduce these ratings. Do not use for lifting over people.
Blank Signs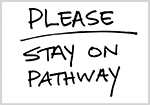 White
Fill in the blank with your own custom warnings, labels, and messages. You can write on these signs with markers, add color with paint, or stick on adhesive-back characters. Many even work with printers.
Magnetic Back
Mount to machines, enclosures, and other steel surfaces. It's a temporary hold, so you can move these signs throughout your plant as needed. For a professional look, print your message directly onto these signs. Vinyl signs work with silkscreen and digital printers.