About Safety Ratings for Electrical Testing
Fluke Test Lead Kits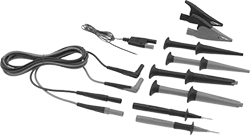 These kits include a set of red and black Fluke test leads with a variety of interchangeable tips.
The connection end on the test leads is a 4 mm banana plug, which is the standard for connecting to a multimeter.
Manufacturer
Model Number
For Fluke
Model
Number
AC
Voltage
DC
Voltage

Current,


A
Safety Rating
Includes
Cord


Lg.

Color
Each
TL220
27 II, 28 II, 83V, 87V, 114, 115, 116, 117, 123, 175, 177, 179, 233, 287, 289, 373, 374, 787, 789
1,000
1,000
10
CAT II, 1,000V
Two Cords with Sheathed Straight Banana Plug and Sheathed Right-Angle Banana Plug, Two Needle Tips, Two Insulated Plunger Style Alligator Clips
59"
Black, Red
0000000
000000
Fluke Test Sensors
Take temperature or pressure readings with a Fluke multimeter.
The Fluke 80TK is a thermocouple converter that adapts a Fluke multimeter without a temperature function to a thermometer using the included temperature probe. It has 4 mm banana plug connection ends that attach to 4 mm banana jacks on Fluke multimeters.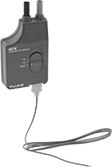 80TK
Manufacturer
Model Number
For Fluke
Model
Number
Temperature


Range,




°F

AC
Voltage
DC
Voltage
Test End
Connection
End
Cord


Lg.

Test End
Insulation
Material
Each
80TK
27 II, 28 II, 114, 115, 116, 117, 123, 175, 177, 179, 233, 287, 289, 789
-40° to 500°
24
60
Needle Tip
Sheathed Banana Plug
39"
PTFE
0000000
0000000
Fluke Scopemeters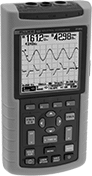 Perform electrical tests, record data, and see a graph of electrical waveforms with this combination multimeter and oscilloscope. Fluke scopemeters are known for quality and durability.
To download and analyze data on a computer, software is required (not included).
When used as an oscilloscope, the scopemeter is most accurate when the frequency is at least five times the maximum signal frequency you intend to measure.
The multimeter function is true RMS, so it accurately takes AC measurements regardless of the load type or sine wave shape. This is important for testing electronic devices that draw current in short pulses that can distort the shape of the wave, such as computers and adjustable-speed drives.
Display count is an industry designation and not an actual value. This 5,000-count scopemeter shows numbers up to 4,999.
Manufacturer
Model
Number

No.

of
Digital
Channels
Frequency
Safety
Rating

Max.


AC
Voltage

Max.


DC
Voltage
DC
Voltage
Accuracy
Display
Count
Data
Log
Capacity
Includes
Specifications
Met
Measures
Batteries
Included
Each

True RMS AC Calculation

123B
2
0-20 MHz
CAT IV, 600V
600
600
0.5%
5,000
512
Alligator Clips, Battery Charger, BNC Adapter, Probe Tips, Test Leads
CSA Certified

AC Voltage, Capacitance, Continuity, DC Voltage, Temperature
Yes
0000000
000000000