About Hazardous Location Environmental Ratings
Fluke Hazardous Location Multimeters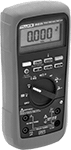 These Fluke multimeters are rated for environments where hazardous material is present. They take voltage, resistance, and other electrical measurements. Multimeters have durable sealed housing and are rated IP67 for protection from washdowns and temporary submersion.
They are True RMS, which means they take accurate AC measurements regardless of the load type or sine wave shape. This is important for testing electronic devices that draw current in short pulses that can distort the shape of the wave, such as computers and adjustable-speed drives. Display count is an industry designation and not an actual value. These meters show numbers up to 5,999.
Hazardous location environmental ratings indicate whether manufacturers have included safety features in products to facilitate their safe use in a hazardous environment. Before selecting a product for a hazardous location, ensure it is rated for your environment. See About Hazardous Location Environmental Ratings.
Manufacturer
Model
Number
Safety
Rating
Measures

Max.


AC
Voltage

Max.


DC
Voltage
DC
Voltage
Accuracy

Max.

AC


Current,


A

Max.

DC


Current,


A
Display
Count
Environmental
Rating
NEC Hazardous
Location

Temp.


Classification
Each

True RMS AC Calculation

28 II Ex
CAT IV, 600V
AC Voltage, Capacitance, Current, DC Voltage, Frequency, Resistance, Temperature
1,000
1,000
0.05%
10
10
6,000
NEC Class I Divisions 1, 2 Groups A, B, C, D
NEC Zone 1 Groups IIC, IIB, IIA
IEC Zone 1 Groups IIC, IIB, IIA
IP67

T4 (275° F)
0000000
000000000