Foam Material Sample Packs

Includes a total of 12 sheets: one of each material listed in the table.
For technical drawings and 3-D models, click on a part number.
Material

Thick.

Pkg.

Buna-N Foam, EPDM Foam, EVA Foam, Ionomer Foam, Natural Gum Foam, Neoprene Foam, Polyethylene Foam, Polyimide Foam, Polyurethane Foam, Silicone Foam, Vinyl Foam, Viton® Fluoroelastomer Foam

1/8

" to

1/2

"
0000000
000000
Resilient
High-Temperature

Silicone Foam Sample Packs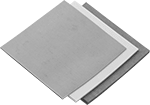 These packs include three sheets: one for each pressure to compress rating.
Pressure to
Compress

25%,

psi

Pkg.




Qty.

Pkg.

7, 10, 16
3
00000000
000000