Food Industry
Spill-Control

Kits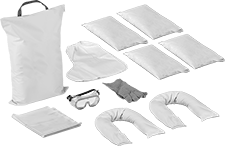 For Use
with
Chemicals,
Oil,
and Water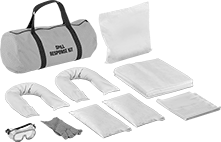 These portable kits contain all the supplies you need to clean up spills in facilities that work with food. With NSF registered J1 sorbents, they're safe for use in food processing plants. Packed in each bag are mineral-based sorbent socks and pillows, disposal bags, gloves, and safety goggles.
Kits for chemicals, oil, and water contain sorbents that absorb a broad range of chemicals, lubricants, and paint. They are not for use with hydrofluoric acid.
Kits for oil soak up oil and repel water. Use them in wet areas or to skim oil off the surface of a tank of water.
Spill


Cap.,

gal.

Container
Type
Includes
Specifications Met
Each
Each

For Use With

Chemicals,

Oil,

Water

5
Fabric Bag
Two 3" × 48" Socks
Four 9" × 16" Pillows
One Pair of Nitrile Gloves
One Pair of Boot Covers
One Pair of Goggles
Two Disposal Bags
NSF Registered J1

0000000
000000
0000000
000000

For Use With Oil

8
Fabric Bag
Fifteen 15" × 18" Pads
Two 3" × 48" Socks
Two 8" × 17" Pillows
One 1-lb. Bag of Granular Sorbent
One Pair of Nitrile Gloves
One Pair of Goggles
One Disposal Bag
NSF Registered J1

0000000
000000
0000000
000000