Sanitary
Back-Pressure-Regulating

Valves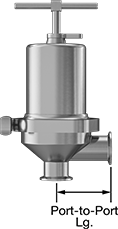 For Use

With:

Food and Beverage
Temperature

Range:

-40° to 120°F

Specifications

Met:

3-A Certified

64-00,

ANSI Class

III,

FDA Compliant 21 CFR

177.

2600
Designed to meet 3-A sanitary standards, these valves regulate liquid, gas, air, and steam pressure in hygienic zones of food and beverage plants. They're often used at the end of pipelines on processing and sanitizing equipment. Made of 316 stainless steel, they won't corrode from frequent washdowns with harsh cleaners. With an extremely smooth interior that self-drains, bacteria won't have time or space to grow. The spring and internal valve mechanisms are sealed off behind the diaphragm, which also prevents contamination. They connect with quick-clamp fittings, so disassembling to clean your line takes little time.
These valves obstruct flow to maintain sufficient operating pressure in your system. If the system pressure exceeds the set pressure, they exhaust through the outlet. They meet ANSI Class III standards for shut-off valves, meaning a maximum of 0.1% of fluid, gas, or air will escape through the outlet when they're closed. An integrated T-handle lets you set the outlet pressure without additional tools. The diaphragm and seal resist repeated exposure to water and steam, and they're FDA compliant for direct contact with food.
For technical drawings and 3-D models, click on a part number.
For
Tube
OD
Flange
OD
Location

Max.




Pressure,


psi
For
Tube
OD
Flange
OD
Location

End-to-End

Port-to-Port

Choose an Outlet
Pressure


Range,

psi
Each

Standard Quick Clamp

316 Stainless Steel

Body—

EPDM Diaphragm and EPDMSeal

3/4

"
0.984"
Side
200

3/4

"
0.984"
Bottom
6

5/8

"
3

9/32

"
000000
000000000
1"
1.984"
Side
200
1"
1.984"
Bottom
6

11/16

"
3

5/16

"
000000
00000000

316 Stainless Steel

Body—

PTFE Plastic Diaphragm and EPDMSeal

1

1/2

"
1.984"
Side
125
1

1/2

"
1.984"
Bottom
7

11/16

"
4

3/16

"
000000
00000000
2"
2.516"
Side
100
2"
2.516"
Bottom
11

5/8

"
5

3/4

"
000000
00000000