Metal-

and

X-Ray-Detectable

Stylus Pens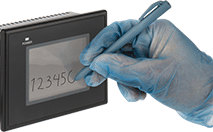 Operate hand-held PLCs and other pressure-activated screens (also known as resistive touch screens) in sanitary and food processing areas. These pens give you more control than a fingertip when writing notes or entering data, and won't smudge or scratch your screen. They are made with metal and chemical additives that will set off metal detectors and appear on X-rays if they fall into your line. Because of this, they help you comply with Hazard Analysis and Critical Control Point (HACCP) programs.
The one-piece design has no removable parts that could end up in your line, and no seams where dirt, bacteria, or other contaminants could hide. These pens are bright blue, so you can quickly find and retrieve them if they fall into your food line. They are FDA-compliant, meaning they are safe for direct contact with food.
These pens are not compatible with smart phones or tablets that require a human touch.
Material
Shape
Body
Material
For
Use
On
Features
Color
Specifications
Met
Each
Plastic
Point
Plastic
Touch Screens
Pocket Clip
Blue
FDA Compliant 21 CFR 177.1520
FDA Compliant 21 CFR 178.2010
FDA Compliant 21 CFR 178.3297

0000000
00000