Personal Protection Panels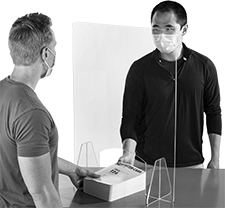 Create a barrier between customers and employees to stop the spread of illness. Made from clear acrylic, these panels block germs without keeping the people on each side from seeing and interacting with one another. They're also durable, so they won't break down from daily use.
Freestanding panels sit upright on flat surfaces, so they're easier to set up and move than hanging panels.
Those with four panels protect up to four people at a single table or desk unit. They consist of two panels that slide together—no fasteners required—to create a four-way intersection, taking up less space than four individual panels would. 31" × 48" panels are designed for rectangular tables; all other four-way panels are designed for square and circular tables.