Bench-Mount

Flat-Panel

Monitor Positioning Arms
These arms have a VESA (Video Electronics Standards Association) standard mounting hole pattern to attach a monitor.
Threaded hole and clamp-on arms have gas springs that counterbalance monitor weight to keep the arm in position.
For technical drawings and 3-D models, click on a part number.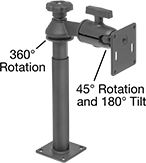 Screw On
For
Monitor
Size
Display


Ht.

Max.


Projection

Max.

Load


Capacity,




lbs.

Material

Lg.

Wd.

No.

of
Mounting
Holes
Mounting
Hole


Dia.

Mounting
Fasteners
Included
Attaching
End
Mount Type
Attaching End
Mounting Hole
Pattern Compatibility
Each

Rotate,

Side-to-Side,

Tilt,

Up/Down

10"-32"
8"-21

1/4

"
7

1/4

"
10
Powder-Coated Aluminum
3

1/2

"
3

1/2

"
4

5/16

"
No
Plate
VESA 75
00000000
0000000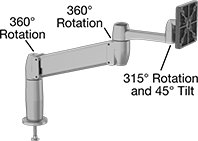 Threaded Hole
For
Monitor
Size
Display


Ht.

Min.

Max.

Min.

Max.

Material

Dia.

No.

of
Mounting
Holes
Mounting
Hole


Dia.

For

Max.


Mounting
Surface

Thick.

Mounting
Fasteners
Included
Attaching
End
Mount Type
Attaching End
Mounting Hole
Pattern Compatibility
Each

In/Out,

Rotate,

Side-to-Side,

Tilt,

Up/Down

10"-24"
7"-14"
4"
22"
7
20
Aluminum
4"
1

1/2

"
2

1/4

"
Yes
Plate
VESA 75, VESA 100
000000
0000000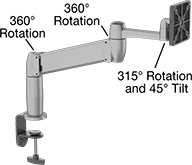 Clamp On
For
Monitor
Size
Display


Ht.

Min.

Max.

Min.

Max.

Material
Base


Dia.

For

Max.


Mounting
Surface

Thick.

Attaching
End
Mount Type
Attaching End
Mounting Hole
Pattern Compatibility
Each

In/Out,

Rotate,

Side-to-Side,

Tilt,

Up/Down

10"-24"
7"-14"
4"
22"
7
20
Aluminum
4"
3

5/8

"
Plate
VESA 75, VESA 100
000000
0000000