Ceiling Tile Wall Molding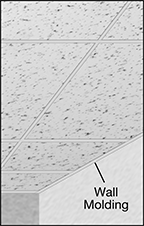 Secure tile frames to the wall.
Aluminum molding is corrosion resistant and withstands higher humidity than steel.
Use fiberglass-reinforced plastic molding in food and dairy plants—paint free, it won't blister or peel onto your product. Because it's nonmagnetic, it's also safe to install in hospitals and labs with MRI technology. Unlike metal molding, this molding won't conduct heat and electricity, so it reduces the risk of injury from electric hazards. It complies with ICC-ES seismic standards when installed with pop rivets. It's also approved for use in UL fire-rated ceiling assemblies. You can clean this molding with mild detergents and it won't corrode.
For technical drawings and 3-D models, click on a part number.