Distortion-Resistant

Ultra-Strength

Lightweight Carbon Fiber Sheets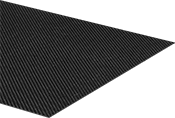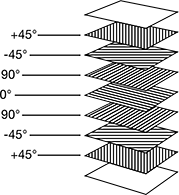 Quasi-Isotropic
Construction Layup
Color:

Black
Maximum

Temperature:

180° F

Tensile

Strength:

Not Rated
Fiber Tensile

Stiffness:

Standard

(33-36

msi)

Impact

Strength:

Not Rated

Hardness:

Not Rated

For Use

Outdoors:

No
Layers of fibers alternating in four directions makes this carbon fiber stiff at the corners and edges, so it stands up to twisting forces. It also gives you the same stiffness as standard carbon fiber but in a thinner sheet, reducing the overall weight of your application. It's ideal for thin, strong parts—often substituted for aluminum because it's lighter in weight yet almost as rigid.
A checked pattern keeps the fibers from splintering when cut and gives these sheets the classic carbon fiber look. They're glossy but can be sanded for a matte finish.
For technical drawings and 3-D models, click on a part number.
Thickness
Thickness
Tolerance
Appearance
Each

1/16

"
-0.003" to 0.003"
Checked, Glossy
0000000
000000

1/8

"
-0.006" to 0.006"
Checked, Glossy
0000000
000000

1/16

"
-0.003" to 0.003"
Checked, Glossy
0000000
000000

1/8

"
-0.006" to 0.006"
Checked, Glossy
0000000
000000

1/16

"
-0.003" to 0.003"
Checked, Glossy
0000000
000000

1/8

"
-0.006" to 0.006"
Checked, Glossy
0000000
000000