About
Copper,

Brass,

and Bronze
Easy-to-Machine

936 Bearing Bronze Tubes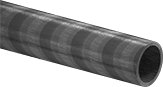 Yield

Strength:

21,

000 psi

Hardness:

Rockwell B25

(Soft)

Temper: M07

Heat

Treatable:

No
Specifications

Met:

ASTM B505
An easier-to-machine alternative to 932 bronze, 936 also has better corrosion resistance. It's also called modified SAE 64. Use it to machine bearings and bushings for oil pumps and gasoline engines.
For technical drawings and 3-D models, click on a part number.

Certificates with a traceable lot number are available for these products. Download certificates from ORDER HISTORY after your order ships.
OD
OD Tolerance Range
ID
ID Tolerance Range
Straightness
Tolerance

6"

Lg.

13"

Lg.

1"
0.0312" to 0.0937"

1/2

"
-0.0312" to -0.0937"

3/8

" per 5 ft.
00000000
1

1/4

"
0.0312" to 0.0937"

3/4

"
-0.0312" to -0.0937"

3/8

" per 5 ft.
00000000
1

1/2

"
0.0312" to 0.0937"
1"
-0.0312" to -0.0937"

3/8

" per 5 ft.
00000000
1

3/4

"
0.0312" to 0.0937"
1

1/4

"
-0.0312" to -0.0937"

3/8

" per 5 ft.
00000000
2"
0.0312" to 0.0937"
1

1/2

"
-0.0312" to -0.0937"

3/8

" per 5 ft.
00000000
2

1/4

"
0.0312" to 0.0937"
1

3/4

"
-0.0312" to -0.0937"

3/8

" per 5 ft.
00000000
2

1/2

"
0.0312" to 0.0937"
2"
-0.0312" to -0.0937"

3/8

" per 5 ft.
00000000
3"
0.0312" to 0.0937"
2

1/2

"
-0.0312" to -0.0937"

3/8

" per 5 ft.
00000000
5"
0.0312" to 0.0937"
4

1/2

"
-0.0312" to -0.0937"

3/8

" per 5 ft.
00000000
1

1/2

"
0.0312" to 0.0937"

3/4

"
-0.0312" to -0.0937"

3/8

" per 5 ft.
00000000
1

3/4

"
0.0312" to 0.0937"
1"
-0.0312" to -0.0937"

3/8

" per 5 ft.
00000000
2"
0.0312" to 0.0937"
1

1/4

"
-0.0312" to -0.0937"

3/8

" per 5 ft.
00000000
2

1/4

"
0.0312" to 0.0937"
1

1/2

"
-0.0312" to -0.0937"

3/8

" per 5 ft.
00000000
2

1/2

"
0.0312" to 0.0937"
1

3/4

"
-0.0312" to -0.0937"

3/8

" per 5 ft.
00000000
1

1/2

"
0.0312" to 0.0937"

1/2

"
-0.0312" to -0.0937"

3/8

" per 5 ft.
00000000
2"
0.0312" to 0.0937"
1"
-0.0312" to -0.0937"

3/8

" per 5 ft.
00000000
2

1/2

"
0.0312" to 0.0937"
1

1/2

"
-0.0312" to -0.0937"

3/8

" per 5 ft.
00000000
2

3/4

"
0.0312" to 0.0937"
1

3/4

"
-0.0312" to -0.0937"

3/8

" per 5 ft.
00000000
3"
0.0312" to 0.0937"
2"
-0.0312" to -0.0937"

3/8

" per 5 ft.
00000000
3

1/4

"
0.0312" to 0.0937"
2

1/4

"
-0.0312" to -0.0937"

3/8

" per 5 ft.
00000000
3

1/2

"
0.0312" to 0.0937"
2

1/2

"
-0.0312" to -0.0937"

3/8

" per 5 ft.
00000000
4"
0.0312" to 0.0937"
3"
-0.0312" to -0.0937"

3/8

" per 5 ft.
00000000
5"
0.0312" to 0.0937"
4"
-0.0312" to -0.0937"

3/8

" per 5 ft.
00000000
5

1/2

"
0.0312" to 0.0937"
4

1/2

"
-0.0312" to -0.0937"

3/8

" per 5 ft.
00000000
6"
0.0312" to 0.0937"
5"
-0.0312" to -0.0937"

3/8

" per 5 ft.
00000000
2

1/2

"
0.0312" to 0.0937"
1

1/4

"
-0.0312" to -0.0937"

3/8

" per 5 ft.
00000000
3"
0.0312" to 0.0937"
1

3/4

"
-0.0312" to -0.0937"

3/8

" per 5 ft.
00000000
3

1/4

"
0.0312" to 0.0937"
2"
-0.0312" to -0.0937"

3/8

" per 5 ft.
00000000
3

3/4

"
0.0312" to 0.0937"
2

1/2

"
-0.0312" to -0.0937"

3/8

" per 5 ft.
00000000
2"
0.0312" to 0.0937"

1/2

"
-0.0312" to -0.0937"

3/8

" per 5 ft.
00000000
2

1/2

"
0.0312" to 0.0937"
1"
-0.0312" to -0.0937"

3/8

" per 5 ft.
00000000
3"
0.0312" to 0.0937"
1

1/2

"
-0.0312" to -0.0937"

3/8

" per 5 ft.
00000000
3

1/2

"
0.0312" to 0.0937"
2"
-0.0312" to -0.0937"

3/8

" per 5 ft.
00000000
4"
0.0312" to 0.0937"
2

1/2

"
-0.0312" to -0.0937"

3/8

" per 5 ft.
00000000
4

1/2

"
0.0312" to 0.0937"
3"
-0.0312" to -0.0937"

3/8

" per 5 ft.
00000000
3"
0.0312" to 0.0937"
1"
-0.0312" to -0.0937"

3/8

" per 5 ft.
00000000
4"
0.0312" to 0.0937"
2"
-0.0312" to -0.0937"

3/8

" per 5 ft.
00000000
5"
0.0312" to 0.0937"
3"
-0.0312" to -0.0937"

3/8

" per 5 ft.
00000000
6"
0.0312" to 0.0937"
4"
-0.0312" to -0.0937"

3/8

" per 5 ft.
00000000