Economical Garolite CE Rods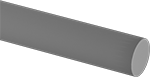 Color:

Brown
Temperature

Range:

-30° F

to

235° F

Tensile

Strength:

6,000-10,

000 psi

(Good)

Impact

Strength:

1.4-1.

7

ft.

-

lbs./in.

(Poor)

Hardness:

Rockwell M100

(Extra

Hard)

For Use

Outdoors:

No
Specifications

Met:

MIL-I-

24768/14,

UL 94 HB
Sometimes called canvas-grade industrial laminate, phenolic, and Bakelite, these Garolite CE rods are often fabricated into parts where high strength is not required. They are made of a phenolic resin with cotton fabric reinforcement, which makes them easy to machine into mechanical parts, such as pulleys, gears, bushings, and washers.
If you don't see the size you're looking for, please specify a length under additional rod lengths.
For technical drawings and 3-D models, click on a part number.
To Order: Please specify length in increments of 0.25" within the range listed.
Dia.

Dia.

Tolerance
Choose
a Length
Per
Inch

1/4

"
-0.005" to 0.005"
1"-48"
00000000
00000

5/16

"
-0.005" to 0.005"
1"-48"
00000000
000

3/8

"
-0.005" to 0.005"
1"-48"
00000000
000

7/16

"
-0.005" to 0.005"
1"-48"
00000000
000

1/2

"
-0.005" to 0.005"
1"-48"
00000000
000

9/16

"
-0.005" to 0.005"
1"-48"
00000000
000

5/8

"
-0.005" to 0.005"
1"-48"
00000000
000

3/4

"
-0.005" to 0.005"
1"-48"
00000000
0000

7/8

"
-0.005" to 0.005"
1"-48"
00000000
0000
1"
-0.005" to 0.005"
1"-48"
00000000
0000
1

1/8

"
-0.005" to 0.005"
1"-48"
00000000
0000
1

1/4

"
-0.005" to 0.005"
1"-48"
00000000
0000
1

3/8

"
-0.005" to 0.005"
1"-48"
00000000
0000
1

1/2

"
-0.005" to 0.005"
1"-48"
00000000
0000
2"
-0.005" to 0.005"
1"-48"
00000000
0000
2

1/2

"
-0.005" to 0.005"
1"-48"
00000000
0000
3"
-0.005" to 0.005"
1"-48"
00000000
0000
3

1/2

"
-0.005" to 0.005"
1"-48"
00000000
00000
4"
-0.005" to 0.005"
1"-48"
00000000
00000
4

1/2

"
-0.005" to 0.005"
1"-48"
00000000
00000
5"
-0.005" to 0.005"
1"-48"
00000000
00000
6"
-0.005" to 0.005"
1"-48"
00000000
00000