Heavy Duty Handrail Mounting Brackets

1

2

3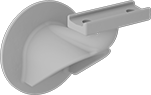 4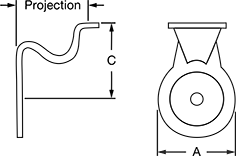 1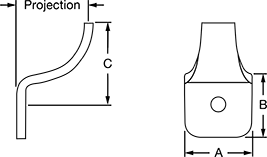 2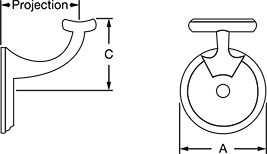 3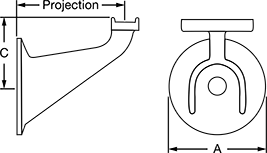 4
Designed for heavy duty applications, these brackets support metal and wooden handrails on stairs and ramps.
Steel and iron brackets are strong enough to reliably support handrails that are used frequently. Powder-coated iron brackets are more resistant to scratches and dents than uncoated or painted iron.
Aluminum brackets are lightweight and have excellent corrosion resistance, which makes them good for harsh environments.
Cast brackets are stronger than formed brackets.
ADA-compliant brackets have enough vertical and horizontal clearance to help you comply with ADA guidelines if installed correctly.
Brackets that meet NFPA 5000 leave enough clearance between the handrail and wall to help you meet National Fire Protection Association safety standards for building and construction.
Styles 1-3 have mounting holes in their base to mount to the wall. Styles 1 and 3 have a saddle for fastening or welding the handrail. Style 2 brackets don't have a saddle; weld the handrail directly to the top of the bracket.
Style 4 brackets come with a fastener and an anchor for mounting to the wall. They also have a saddle for securing the handrail (mounting fasteners not included).
For technical drawings and 3-D models, click on a part number.
Style
Material
Appearance

(A)

(B)

(C)

Projection

Thick.

Cap.,




lbs.

Mount
Type
Mounting
Fasteners
Included
For Screw
Size


(No. of Mounting Holes)

Specifications
Met
Each

Formed

For Handrails with a Flat or Round Surface

1
Steel
Dull
2

3/4

"
__
1

17/32

"
2

1/4

"

3/16

"
200
Screw, Weld
No
No

1/4

" (2 Straight)


3/8

" (1 Straight)
__
0000000
00000
1
Steel
Dull
2

3/4

"
__
1

59/64

"
2

1/2

"

3/16

"
200
Screw, Weld
No
No

1/4

" (2 Straight)


3/8

" (1 Straight)
__
0000000
0000
1
Steel
Dull
2

3/4

"
__
1

59/64

"
2

1/2

"

3/16

"
200
Screw, Weld
No

1/4

" (5 Straight)
__
0000000
0000
1
Steel
Dull
2

3/4

"
__
1

15/16

"
3"

3/16

"
200
Screw, Weld
No
No

1/4

" (2 Straight)


3/8

" (1 Straight)
__
0000000
0000
1
Steel
Dull
2

3/4

"
__
2

7/8

"
2

5/8

"

3/16

"
200
Screw, Weld
No
No

1/4

" (2 Straight)


3/8

" (1 Straight)
ADA Compliant
0000000
0000
2
Steel
Dull
2"
2"
2

1/2

"
2

1/4

"

1/4

"
200
Screw, Weld
No

3/8

" (1 Straight)
__
0000000
0000

For Handrails with a Round Surface

1
Steel
Dull
3"
__
2

3/64

"
2

1/2

"

1/4

"
200
Screw, Weld
No
No

1/4

" (2 Straight)


3/8

" (1 Straight)
__
0000000
0000
1
Steel
Dull
3"
__
3"
3

1/4

"

1/4

"
200
Screw, Weld
No
No

1/4

" (2 Straight)


3/8

" (1 Straight)
NFPA 5000
0000000
0000
1
Aluminum
Dull
3"
__
3"
3

1/4

"

1/4

"
200
Screw, Weld
No
No

1/4

" (2 Straight)


3/8

" (1 Straight)
NFPA 5000
0000000
00000

Cast

For Handrails with a Flat Surface

3
Iron
Dull
2

3/4

"
__
2

7/8

"
2

1/2

"
__
200
Screw, Weld
No
No

1/4

" (2 Straight)


3/8

" (1 Straight)
__
0000000
00000
3
Iron
Dull
3

1/4

"
__
3

1/8

"
3"
__
200
Screw, Weld
No
No

1/4

" (2 Straight)


3/8

" (1 Straight)
__
0000000
00000

For Handrails with a Flat or Round Surface

4
Gray Powder-Coated Iron
Dull
3"
__
1

1/8

"
3

3/8

"

1/8

"
Not Rated
Screw
Yes
No

1/4

" (1 Straight)


1/2

" (2 Straight)
__
0000000
00000

For Handrails with a Round Surface

3
Iron
Dull
2

3/4

"
__
2

7/8

"
2

1/2

"
__
200
Screw, Weld
No
No

1/4

" (2 Straight)


3/8

" (1 Straight)
__
0000000
0000
3
Iron
Dull
3

1/4

"
__
3

1/8

"
3"
__
200
Screw, Weld
No
No

1/4

" (2 Straight)


3/8

" (1 Straight)
__
0000000
00000