About
Copper,

Brass,

and Bronze
High-Strength

863 Bearing Bronze Tubes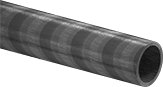 Yield

Strength:

62,

000 psi

Hardness:

Rockwell B95

(Medium)

Temper: M07

Heat

Treatable:

No
Specifications

Met:

ASTM B505
Frequently called manganese brass, 863 bronze can handle heavy loads and high speeds when properly lubricated. It is often used for heavy-load bearings, hydraulic cylinder parts, and large valve stems.
For technical drawings and 3-D models, click on a part number.

Certificates with a traceable lot number are available for these products. Download certificates from ORDER HISTORY after your order ships.
OD
OD Tolerance Range
ID
ID Tolerance Range
Straightness
Tolerance

6"

Lg.

13"

Lg.

1

1/2

"
0.0525" to 0.109"
1"
-0.0505" to -0.165"

1/4

" per 5 ft.
00000000
2"
0.0525" to 0.109"
1

1/2

"
-0.0505" to -0.165"

1/4

" per 5 ft.
00000000
2

1/2

"
0.0525" to 0.109"
2"
-0.0505" to -0.165"

1/4

" per 5 ft.
00000000
2"
0.0525" to 0.109"
1"
-0.0505" to -0.165"

1/4

" per 5 ft.
00000000
3"
0.0525" to 0.109"
2"
-0.0505" to -0.165"

1/4

" per 5 ft.
00000000
2

1/2

"
0.0525" to 0.109"
1"
-0.0505" to -0.165"

1/4

" per 5 ft.
00000000
4"
0.0525" to 0.109"
2"
-0.0505" to -0.165"

1/4

" per 5 ft.
00000000