About Carbon
Steel,

Alloy

Steel,

Spring

Steel,

and Cast Iron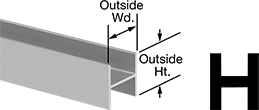 Yield

Strength:

50,

000 psi

Hardness:

Not Rated

Heat

Treatable:

Yes
Maximum Hardness After Heat

Treatment:

Not Rated
Specifications

Met:

ASTM A992

Made of stiff low-carbon steel to deflect less under load, these H-bars are commonly used in machine bases, construction, platforms, and frames. Because of its rigidity, low-carbon steel is the most commonly used material for H-bars. These H-bars are less likely to crack from welding than those made of higher-carbon steels, and easier to weld than I-beams because they have a straight flange instead of a radius flange. H-bars are stronger than I-beams, but also heavier.
For technical drawings and 3-D models, click on a part number.

Certificates with a traceable lot number are available for these products. Download certificates from ORDER HISTORY after your order ships.
Wall
Thickness
Wall
Thickness
Tolerance
Height
Height
Tolerance
Width
Width
Tolerance
Inside
Width
Minimum


Temperature,




°F

Straightness
Tolerance

3 ft.,




Lg.

6 ft.,




Lg.

0.215"
Not Rated
3.94"
-0.188" to 0.250"
5.9"
-0.125" to 0.125"
5.47"
Not Rated
0.025" per ft.
0000000
0.26"
Not Rated
5.99"
-0.188" to 0.250"
5.99"
-0.125" to 0.125"
5.47"
Not Rated
0.025" per ft.
0000000
0.28"
Not Rated
4"
-0.188" to 0.250"
6.03"
-0.125" to 0.125"
5.47"
Not Rated
0.025" per ft.
0000000
0.345"
Not Rated
4.06"
-0.188" to 0.250"
4.16"
-0.125" to 0.125"
3.47"
Not Rated
0.025" per ft.
0000000
0.365"
Not Rated
6.02"
-0.188" to 0.250"
6.2"
-0.125" to 0.125"
5.47"
Not Rated
0.025" per ft.
0000000
0.4"
Not Rated
5.27"
-0.188" to 0.250"
8.28"
-0.125" to 0.125"
7.48"
Not Rated
0.025" per ft.
0000000
0.435"
Not Rated
7.995"
-0.188" to 0.250"
8"
-0.125" to 0.125"
7.13"
Not Rated
0.025" per ft.
0000000
0.455"
Not Rated
6.08"
-0.188" to 0.250"
6.38"
-0.125" to 0.125"
5.47"
Not Rated
0.025" per ft.
0000000
0.56"
Not Rated
8.07"
-0.188" to 0.250"
8.25"
-0.125" to 0.125"
7.13"
Not Rated
0.025" per ft.
0000000