Mounting Channels for Enclosures
Customize component placement without drilling leaky holes—these channels screw into the mounting bosses in your enclosure. Use strut channel nuts (sold separately) to add a DIN rail at any point along the channel, then clip on terminal blocks and other parts. To adjust spacing, loosen the strut channel nuts and slide the rail along the channel.
For technical drawings and 3-D models, click on a part number.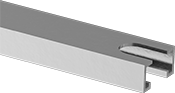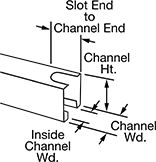 Length
Material
Height
Width
Inside
Channel Width
Width

Center-to-Center

End-to-Channel


End

Pkg.




Qty.

Pkg.

9

5/8

"
Zinc-Plated Steel

13/32

"

13/16

"

7/16

"

3/8

"
8

13/16

"

19/32

"
2
0000000
0000000
13

5/8

"
Zinc-Plated Steel

13/32

"

13/16

"

7/16

"

3/8

"
12

13/16

"

19/32

"
2
0000000
000000
17

5/8

"
Zinc-Plated Steel

13/32

"

13/16

"

7/16

"

3/8

"
16

13/16

"

19/32

"
2
0000000
000000
21

5/8

"
Zinc-Plated Steel

13/32

"

13/16

"

7/16

"

3/8

"
20

13/16

"

19/32

"
2
0000000
000000
57

5/8

"
Zinc-Plated Steel

13/32

"

13/16

"

7/16

"

3/8

"
56

13/16

"

19/32

"
2
0000000
000000