Multipurpose
Flame-Retardant

Garolite

G-10/FR4

Sheets and Bars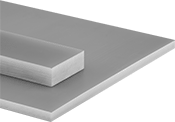 A good all-around choice, these Garolite G-10/FR4 sheets and bars are strong, machinable, and electrically insulating. They're made of a flame-retardant epoxy resin with fiberglass fabric reinforcement. Garolite G-10/FR4 is also called epoxy-grade industrial laminate and phenolic.
Wear-resistant sheets are coated to stand up to rubbing and scraping better than uncoated sheets.
If you don't see the size you're looking for, please specify a length under additional bar lengths.
For technical drawings and 3-D models, click on a part number.
Color:

See Table

Max.

Temperature:

280° F

Tensile

Strength:

35,000-50,

000 psi

(Excellent)

Impact

Strength:

5.5-12

ft.

-

lbs./in.

(Excellent)

Hardness:

Rockwell M110

(Extra

Hard)

For Use

Outdoors:

No
Specifications

Met:

MIL-I-

24768/27,

UL 94 V-0
Yellow sheets vary in shade from yellow-brown to light green.
Color:

Yellow-brown to light green

Max.

Temperature:

265° F

Tensile

Strength:

35,000-50,

000 psi

(Excellent)

Impact

Strength:

5.5-12

ft.

-

lbs./in.

(Excellent)

Hardness:

Rockwell M110

(Extra

Hard)

For Use

Outdoors:

No
Specifications

Met:

MIL-I-

24768/27,

UL 94 V-0
Color:

Yellow-brown to light green

Max.

Temperature:

280° F

Tensile

Strength:

35,

000 -

50,

000 psi

(Excellent)

Impact

Strength:

5.5-12

ft.

-

lbs./in.

(Excellent)

Hardness:

Rockwell M110

(Extra

Hard)

For Use

Outdoors:

No
Specifications

Met:

MIL-I-

24768/27,

UL 94 V-0