No-Spin

Strut Channel Washers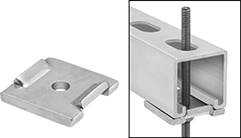 Notches on these washers grip the channel to keep them in place. Use with hex nuts to connect threaded rod.
Zinc-plated steel washers are corrosion resistant in wet environments.
304 stainless steel washers are more corrosion resistant than zinc-plated steel. They also have good chemical resistance.
For technical drawings and 3-D models, click on a part number.