Safety Railings
Connect rails and posts with included slip-on fittings to quickly assemble a railing. They come unassembled, so you can cut them to length as needed.
Steel railings have a yellow powder coating for good visibility.
Aluminum railings are corrosion-resistant in wet environments.
Use add-on railings to extend the length of your railing. They include rails, fittings, and a post.
Select your own fittings, rails, and posts to create custom configurations. Rails and posts do not come with fittings.
Tees are used to connect rails and posts. Pass-through tees slide over a rail so you can add a post in the center. Joining tees connect the ends of two rails to a post.
Adjustable-angle fittings have a moveable joint, so you can position your rails at any angle. Tighten set screws to secure them to rails.
When properly installed, they meet OSHA 29 CFR 1910.29 requirements for guardrail systems.
For technical drawings and 3-D models, click on a part number.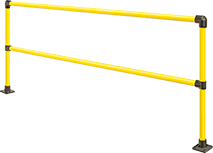 Yellow
Powder-Coated
Steel Straight Railing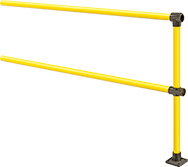 Yellow
Powder-Coated
Steel
Add-On
Railing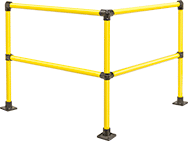 Yellow
Powder-Coated
Steel Corner Railing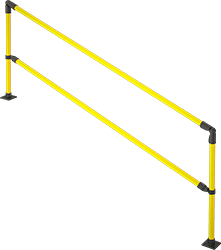 Steel Incline Railing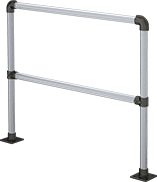 Aluminum Straight Railing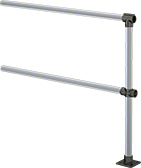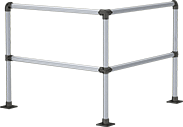 Aluminum Corner Railing
Lg.

Top
Rail


Ht.

Rail


Dia.

Color
Set
Screw
Hex Size

Mount.


Hole


Dia.

Mount.


Hardware
Specifications
Met
Posts

Mount.


Holes
Each

Railings

Straight

4'0"
42"
1

7/8

"
Yellow

3/16

"

7/16

"
Fasteners Not Included
OSHA Compliant 29 CFR 1910.29
2
8
0000000
0000000
6'0"
42"
1

7/8

"
Yellow

3/16

"

7/16

"
Fasteners Not Included
OSHA Compliant 29 CFR 1910.29
2
8
0000000
000000
8'0"
42"
1

7/8

"
Yellow

3/16

"

7/16

"
Fasteners Not Included
OSHA Compliant 29 CFR 1910.29
2
8
0000000
000000

Corner

4'0" × 4'0"
42"
1

7/8

"
Yellow

3/16

"

7/16

"
Fasteners Not Included
OSHA Compliant 29 CFR 1910.29
3
12
0000000
000000

Incline

8'0"
42"
1

7/8

"
Yellow

3/16

"

7/16

"
Fasteners Not Included
OSHA Compliant 29 CFR 1910.29
2
8
0000000
000000

Aluminum

Straight

4'0"
42"
1

7/8

"
__

3/16

"

7/16

"
Fasteners Not Included
OSHA Compliant 29 CFR 1910.29
2
8
0000000
000000
6'0"
42"
1

7/8

"
__

3/16

"

7/16

"
Fasteners Not Included
OSHA Compliant 29 CFR 1910.29
2
8
0000000
000000
8'0"
42"
1

7/8

"
__

3/16

"

7/16

"
Fasteners Not Included
OSHA Compliant 29 CFR 1910.29
2
8
0000000
000000

Corner

4'0" × 4'0"
42"
1

7/8

"
__

3/16

"

7/16

"
Fasteners Not Included
OSHA Compliant 29 CFR 1910.29
3
12
0000000
000000

Straight

4'0"
42"
1

7/8

"
Yellow

3/16

"

7/16

"
Fasteners Not Included
OSHA Compliant 29 CFR 1910.29
1
4
0000000
000000
6'0"
42"
1

7/8

"
Yellow

3/16

"

7/16

"
Fasteners Not Included
OSHA Compliant 29 CFR 1910.29
1
4
0000000
000000
8'0"
42"
1

7/8

"
Yellow

3/16

"

7/16

"
Fasteners Not Included
OSHA Compliant 29 CFR 1910.29
1
4
0000000
000000

Aluminum

Straight

4'0"
42"
1

7/8

"
__

3/16

"

7/16

"
Fasteners Not Included
OSHA Compliant 29 CFR 1910.29
1
4
0000000
000000
6'0"
42"
1

7/8

"
__

3/16

"

7/16

"
Fasteners Not Included
OSHA Compliant 29 CFR 1910.29
1
4
0000000
000000
8'0"
42"
1

7/8

"
__

3/16

"

7/16

"
Fasteners Not Included
OSHA Compliant 29 CFR 1910.29
1
4
0000000
000000
Additional Slip-On Fittings



Three-Way
90°
Elbow with Through Hole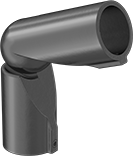 Tee

Joining Tee

Cross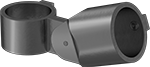 Round Base Flange

Square Base Flange
Component
For Rail


Dia.

Color
Set Screw
Hex Size

No.


of

Dia.

Mount.

Hardware
Each
90° Elbow
1

7/8

"
Black

3/16

"
__
__
__
0000000
000000
Two-Way 90° Elbow
1

7/8

"
Black

3/16

"
__
__
__
0000000
00000
Three-Way 90° Elbow with Through Hole
1

7/8

"
Black

3/16

"
__
__
__
0000000
00000
Adjustable-Angle Elbow
1

7/8

"
Black

3/16

"
__
__
__
0000000
00000
Pass-Through Tee
1

7/8

"
Black

3/16

"
__
__
__
0000000
00000
Joining Tee
1

7/8

"
Black

3/16

"
__
__
__
0000000
00000
Cross
1

7/8

"
Black

3/16

"
__
__
__
0000000
00000
Adjustable-Angle Wye
1

7/8

"
Black

3/16

"
__
__
__
0000000
00000
Round Base Flange
1

7/8

"
Black

3/16

"
4

7/16

"
Fasteners Not Included
0000000
00000
Square Base Flange
1

7/8

"
Black

3/16

"
4

7/16

"
Fasteners Not Included
0000000
00000

Aluminum Toeboard

Yellow
Powder-Coated
Aluminum Toeboard
Lg.

Ht.

Color

Mount.


Slot

Wd.

Mount.

Hardware
Each

Aluminum

4'0"
4"
__

1/4

"
Connecting Fasteners Included
0000000
000000
6'0"
4"
__

1/4

"
Connecting Fasteners Included
0000000
00000
8'0"
4"
__

1/4

"
Connecting Fasteners Included
0000000
00000
4'0"
4"
Yellow

1/4

"
Connecting Fasteners Included
0000000
00000
6'0"
4"
Yellow

1/4

"
Connecting Fasteners Included
0000000
00000
8'0"
4"
Yellow

1/4

"
Connecting Fasteners Included
0000000
000000