Telescoping
Ultra-Strength

Lightweight Carbon Fiber Hexagonal Tubes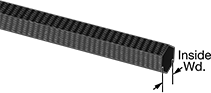 Color:

Black
Temperature

Range:

-65° F

to

180° F

Tensile

Strength:

120,000-175,

000 psi

(Excellent)

Fiber Tensile

Stiffness:

Standard

(33-36

msi)

Impact

Strength:

Not Rated

Hardness:

Not Rated

For Use

Outdoors:

No
Fit these lightweight tubes inside each other to create adjustable tubes for structural framing, machinery components, and robotics. Their hex shape prevents these tubes from twisting when they're inside larger tubes and allows you to mount them to flat surfaces. Carbon fiber is often used in place of aluminum because it weighs less but is almost as rigid. It is known for its use in the aerospace industry where a balance of weight and strength is critical. These tubes reduce wear and stress on motorized parts and increase the life of machinery since they're lightweight.
These tubes have layers that alternate fibers in two directions, so they resist crushing across the tube. This checked carbon fiber is easy to machine—it won't fray or splinter when cut. It also has the classic carbon-fiber look. The surface is glossy and can be sanded for a matte finish.
For technical drawings and 3-D models, click on a part number.
Width
Width Tolerance
Inside
Width
Weave
Type
Appearance
Each
Each

0.052"

Wall

Thick.

(-0.012" to 0.012")

0.729"
-0.018" to 0.018"

5/8

"
Twill
Checked, Glossy
0000000
0000000
0000000
0000000
0.854"
-0.018" to 0.018"

3/4

"
Twill
Checked, Glossy
0000000
000000
0000000
000000
0.979"
-0.018" to 0.018"

7/8

"
Twill
Checked, Glossy
0000000
000000
0000000
000000
1.104"
-0.018" to 0.018"
1"
Twill
Checked, Glossy
0000000
000000
0000000
000000
1.229"
-0.018" to 0.018"
1

1/8

"
Twill
Checked, Glossy
0000000
000000
0000000
000000
1.354"
-0.018" to 0.018"
1

1/4

"
Twill
Checked, Glossy
0000000
000000
0000000
000000