Ultra-Strength

Lightweight Carbon Fiber Sheets and Bars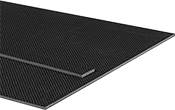 Color:

Black
Temperature

Range:

See table

Tensile

Strength:

120,000-175,

000 psi

(Excellent)

Fiber Tensile

Stiffness:

Standard

(33-36

msi)

Impact

Strength:

Not Rated

Hardness:

Not Rated

For Use

Outdoors:

No
Known for its use in the aerospace industry, where a balance of weight and strength is critical, carbon fiber is now often machined into panels for structural framing, machinery components, and robotics. Use it in place of aluminum to reduce your application's weight without sacrificing much rigidity. Because these sheets and bars are lightweight, they reduce wear and stress on motorized parts, increasing the life of machinery.
Plain bars have fibers that are aligned in a single direction, making them strong in the direction of the fibers. They hold up to bending across the fibers but will splinter and separate like string cheese when bent along the length of the fiber.
Sheets and checked bars have layers that alternate fibers in two directions, so they spread out their strength across the entire sheet or bar. With overall more structural integrity compared to plain bars, you can bend and pull them from any side.
Checked carbon fiber is easy to machine and will not fray or splinter when cut. It has the classic carbon-fiber look. Glossy carbon fiber can be sanded for a matte finish or to prep it for painting.
For technical drawings and 3-D models, click on a part number.
Thick.

Thick.

Tolerance
Appearance

Min.

Temp.

Max.




Temp.,

°F

Each

1/32

"
-0.003" to 0.003"
Checked, Glossy
Not Rated
180°
0000000
000000

1/16

"
-0.004" to 0.004"
Checked, Glossy
Not Rated
180°
0000000
00000

1/8

"
-0.006" to 0.006"
Checked, Glossy
Not Rated
180°
00000000
00000

3/16

"
-0.006" to 0.006"
Checked, Glossy
Not Rated
180°
0000000
00000

1/4

"
-0.008" to 0.008"
Checked, Glossy
Not Rated
180°
0000000
00000

3/8

"
-0.018" to 0.018"
Checked, Glossy
Not Rated
180°
0000000
00000

1/2

"
-0.025" to 0.025"
Checked, Glossy
Not Rated
180°
00000000
00000

3/4

"
-0.037" to 0.037"
Checked, Glossy
Not Rated
180°
00000000
000000
1"
-0.05" to 0.05"
Checked, Glossy
Not Rated
180°
00000000
000000

1/32

"
-0.003" to 0.003"
Checked, Glossy
Not Rated
180°
0000000
00000

1/16

"
-0.004" to 0.004"
Checked, Glossy
Not Rated
180°
0000000
00000

1/8

"
-0.006" to 0.006"
Checked, Glossy
Not Rated
180°
00000000
00000

3/16

"
-0.006" to 0.006"
Checked, Glossy
Not Rated
180°
0000000
00000

1/4

"
-0.008" to 0.008"
Checked, Glossy
Not Rated
180°
0000000
00000

3/8

"
-0.018" to 0.018"
Checked, Glossy
Not Rated
180°
0000000
000000

1/2

"
-0.025" to 0.025"
Checked, Glossy
Not Rated
180°
00000000
000000

1/32

"
-0.003" to 0.003"
Checked, Glossy
Not Rated
180°
0000000
00000

1/16

"
-0.004" to 0.004"
Checked, Glossy
Not Rated
180°
0000000
00000

1/8

"
-0.006" to 0.006"
Checked, Glossy
Not Rated
180°
0000000
00000

3/16

"
-0.006" to 0.006"
Checked, Glossy
Not Rated
180°
0000000
000000

1/4

"
-0.008" to 0.008"
Checked, Glossy
Not Rated
180°
0000000
000000

3/8

"
-0.018" to 0.018"
Checked, Glossy
Not Rated
180°
0000000
000000

1/2

"
-0.025" to 0.025"
Checked, Glossy
Not Rated
180°
00000000
000000

3/4

"
-0.037" to 0.037"
Checked, Glossy
Not Rated
180°
00000000
000000
1"
-0.05" to 0.05"
Checked, Glossy
Not Rated
180°
00000000
000000

1/32

"
-0.003" to 0.003"
Checked, Glossy
Not Rated
180°
0000000
00000

1/16

"
-0.004" to 0.004"
Checked, Glossy
Not Rated
180°
0000000
000000

1/8

"
-0.006" to 0.006"
Checked, Glossy
Not Rated
180°
0000000
000000

3/16

"
-0.006" to 0.006"
Checked, Glossy
Not Rated
180°
0000000
000000

1/4

"
-0.008" to 0.008"
Checked, Glossy
Not Rated
180°
0000000
000000

1/32

"
-0.003" to 0.003"
Checked, Glossy
Not Rated
180°
0000000
000000

1/16

"
-0.004" to 0.004"
Checked, Glossy
Not Rated
180°
0000000
000000

1/8

"
-0.006" to 0.006"
Checked, Glossy
Not Rated
180°
00000000
000000

3/16

"
-0.006" to 0.006"
Checked, Glossy
Not Rated
180°
0000000
000000

1/4

"
-0.008" to 0.008"
Checked, Glossy
Not Rated
180°
0000000
000000

3/8

"
-0.018" to 0.018"
Checked, Glossy
Not Rated
180°
0000000
000000

1/32

"
-0.003" to 0.003"
Checked, Glossy
Not Rated
180°
0000000
000000

1/16

"
-0.004" to 0.004"
Checked, Glossy
Not Rated
180°
0000000
000000

1/8

"
-0.006" to 0.006"
Checked, Glossy
Not Rated
180°
00000000
000000

1/32

"
-0.003" to 0.003"
Checked, Glossy
Not Rated
180°
0000000
000000

1/16

"
-0.004" to 0.004"
Checked, Glossy
Not Rated
180°
0000000
000000

1/8

"
-0.006" to 0.006"
Checked, Glossy
Not Rated
180°
0000000
000000

3/16

"
-0.006" to 0.006"
Checked, Glossy
Not Rated
180°
0000000
000000

1/4

"
-0.008" to 0.008"
Checked, Glossy
Not Rated
180°
0000000
000000

1/2

"
-0.025" to 0.025"
Checked, Glossy
Not Rated
180°
00000000
00000000

3/4

"
-0.037" to 0.037"
Checked, Glossy
Not Rated
180°
00000000
00000000

1/32

"
-0.003" to 0.003"
Checked, Glossy
Not Rated
180°
0000000
000000

1/16

"
-0.004" to 0.004"
Checked, Glossy
Not Rated
180°
0000000
000000

1/8

"
-0.006" to 0.006"
Checked, Glossy
Not Rated
180°
00000000
000000

1/4

"
-0.008" to 0.008"
Checked, Glossy
Not Rated
180°
0000000
00000000

3/8

"
-0.018" to 0.018"
Checked, Glossy
Not Rated
180°
0000000
00000000

1/16

"
-0.004" to 0.004"
Checked, Glossy
Not Rated
180°
00000000
000000

1/8

"
-0.006" to 0.006"
Checked, Glossy
Not Rated
180°
00000000
000000

1/4

"
-0.008" to 0.008"
Checked, Glossy
Not Rated
180°
0000000
00000000