UL Class

L

High-Current

Fuses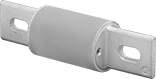 These time-delay fuses are suitable for high-current power applications. They can withstand current overload for a short time and will not open when exposed to harmless temporary surges, such as when starting a motor.
Breakthrough current, labeled on the fuse as IR, is the maximum current that a fuse can safely stop in the event of a short circuit.
For technical drawings and 3-D models, click on a part number.
Current, A

Voltage
Breakthrough
Current

Lg.

Dia.

No.


of
Elements
Cartridge
Fuse
Style
Specifications
Met
Each

Manufacturer

Equivalent:

A4BQ,

KLPC,

KRP-C

601
600V AC/300V DC
100,000 A @ 300 V DC
300,000 A @ 600 V AC
8

5/8

"
2

1/2

"
1
Knife Blade
UL Listed, CSA Certified, CE Marked
0000000
0000000
801
600V AC/300V DC
100,000 A @ 300 V DC
300,000 A @ 600 V AC
10

3/4

"
2

1/2

"
1
Knife Blade
UL Listed, CSA Certified, CE Marked
0000000
000000
1,000
600V AC/300V DC
100,000 A @ 300 V DC
300,000 A @ 600 V AC
10

3/4

"
2

1/2

"
1
Knife Blade
UL Listed, CSA Certified, CE Marked
0000000
000000
1,200
600V AC/300V DC
100,000 A @ 300 V DC
300,000 A @ 600 V AC
10

3/4

"
2

1/2

"
1
Knife Blade
UL Listed, CSA Certified, CE Marked
0000000
000000