High-Temperature

Metal-Detectable

Silicone Gaskets for

Quick-Clamp

Tube Fittings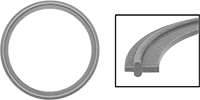 If a piece wears off, fragments as small as 1 mm can be picked up by a metal-detection system to prevent contamination of your process line. These gaskets are silicone and withstand temperatures up to 390° F; they also resist water and salts. They ensure a tight seal in quick-clamp stainless steel sanitary tube fittings.
For technical drawings and 3-D models, click on a part number.
For
Tube
OD
ID
OD

Thick.

Temperature


Range,




°F

Hardness
Hardness
Rating
Color
Specifications
Met
Each
6"
5.80"
6.57"
0.85"
-40° to 450°
Durometer 70A
Hard
Blue
3-A Certified 18-03, FDA Compliant 21 CFR 177.2600
0000000
000000
8"
7.80"
8.56"
0.85"
-40° to 450°
Durometer 70A
Hard
Blue
3-A Certified 18-03, FDA Compliant 21 CFR 177.2600
0000000
00000
10"
9.74"
10.55"
0.85"
-40° to 450°
Durometer 70A
Hard
Blue
3-A Certified 18-03, FDA Compliant 21 CFR 177.2600
0000000
00000
12"
11.74"
12.56"
0.85"
-40° to 450°
Durometer 70A
Hard
Blue
3-A Certified 18-03, FDA Compliant 21 CFR 177.2600
0000000
00000