Noncontact
Liquid-Level

Transmitters

Measure liquid level with sound waves—these transmitters don't come into contact with the liquid so you don't have to worry about fluid compatibility or contamination. Mount at the top of your tank. The housing is rated NEMA 4X and NEMA 6 for protection from corrosion, washdowns, and temporary submersion.
For technical drawings and 3-D models, click on a part number.
For
Liquid
Level
Pipe
Size

Max.


Pressure

Dia.

Lg.

Cable


Lg.,




ft.

Min.

Max.

For
Container
Type
Electrical
Connection
Input
Voltage
Output
Current
Environmental
Rating
Each

PVC Plastic Body with NPT Male Thread

For Water and Water with Solids

4"-6 ft.
1

15 psi @ 70° F
4"
4

1/8

"
5
-40°
140°
Closed Tank, Open Tank
Wire Leads
12V DC-30V DC
4 mA-20 mA
IP68, NEMA 4X, NEMA 6
0000000
0000000
Liquid-Level

Transmitters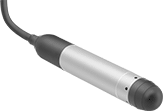 Also known as level loggers, level sensors, and pressure transducers, these transmitters sit at the bottom of your tank in applications that make traditional mounting difficult. They sense and transmit level information through a signal. All are FM approved for Class I, Divisions 1 and 2, Groups A, B, C, and D; Class II, Divisions 1 and 2, Groups E, F, and G; and Class III, Divisions 1 and 2.
Transmitters with nose cone protect the sensing element from the effects of pressure surges.
Transmitters for water with solids have an unobstructed sensing element that resists clogging and sludge buildup in water with particulate and sewage.
For
Liquid


Level,

ft.

Accuracy

Max.


Pressure

Lg.

Dia.

Cable


Lg.,




ft.

Min.

Max.

For
Container
Type
Electrical
Connection
Input
Voltage
Output
Current
Environmental
Rating
Each

316L Stainless Steel Body with Nose Cone

For Water

0-3
±0.25%
1 psi @ 70° F
6

3/4

"
1"
40
-10°
175°
Open Tank
Wire Leads
10V DC-35V DC
4 mA-20 mA
NEC Class I Divisions 1, 2 Groups A, B, C, D
NEC Class II Divisions 1, 2 Groups E, F, G
NEC Class III Divisions 1, 2
NEMA 6P

0000000
0000000
0-5
±0.25%
2 psi @ 70° F
6

3/4

"
1"
40
-10°
175°
Open Tank
Wire Leads
10V DC-35V DC
4 mA-20 mA
NEC Class I Divisions 1, 2 Groups A, B, C, D
NEC Class II Divisions 1, 2 Groups E, F, G
NEC Class III Divisions 1, 2
NEMA 6P

0000000
000000
0-10
±0.25%
4 psi @ 70° F
6

3/4

"
1"
40
-10°
175°
Open Tank
Wire Leads
10V DC-35V DC
4 mA-20 mA
NEC Class I Divisions 1, 2 Groups A, B, C, D
NEC Class II Divisions 1, 2 Groups E, F, G
NEC Class III Divisions 1, 2
NEMA 6P

0000000
000000
0-15
±0.25%
6 psi @ 70° F
6

3/4

"
1"
40
-10°
175°
Open Tank
Wire Leads
10V DC-35V DC
4 mA-20 mA
NEC Class I Divisions 1, 2 Groups A, B, C, D
NEC Class II Divisions 1, 2 Groups E, F, G
NEC Class III Divisions 1, 2
NEMA 6P

0000000
000000
0-30
±0.25%
13 psi @ 70° F
6

3/4

"
1"
40
-10°
175°
Open Tank
Wire Leads
10V DC-35V DC
4 mA-20 mA
NEC Class I Divisions 1, 2 Groups A, B, C, D
NEC Class II Divisions 1, 2 Groups E, F, G
NEC Class III Divisions 1, 2
NEMA 6P

0000000
000000

316L Stainless Steel Body

For Water with Solids

0-3
±0.25%
1 psi @ 70° F
5

3/4

"
1"
40
-10°
175°
Open Tank
Wire Leads
10V DC-35V DC
4 mA-20 mA
NEC Class I Divisions 1, 2 Groups A, B, C, D
NEC Class II Divisions 1, 2 Groups E, F, G
NEC Class III Divisions 1, 2
NEMA 6P

0000000
000000
0-5
±0.25%
2 psi @ 70° F
5

3/4

"
1"
40
-10°
175°
Open Tank
Wire Leads
10V DC-35V DC
4 mA-20 mA
NEC Class I Divisions 1, 2 Groups A, B, C, D
NEC Class II Divisions 1, 2 Groups E, F, G
NEC Class III Divisions 1, 2
NEMA 6P

0000000
000000
0-10
±0.25%
4 psi @ 70° F
5

3/4

"
1"
40
-10°
175°
Open Tank
Wire Leads
10V DC-35V DC
4 mA-20 mA
NEC Class I Divisions 1, 2 Groups A, B, C, D
NEC Class II Divisions 1, 2 Groups E, F, G
NEC Class III Divisions 1, 2
NEMA 6P

0000000
000000
0-15
±0.25%
6 psi @ 70° F
5

3/4

"
1"
40
-10°
175°
Open Tank
Wire Leads
10V DC-35V DC
4 mA-20 mA
NEC Class I Divisions 1, 2 Groups A, B, C, D
NEC Class II Divisions 1, 2 Groups E, F, G
NEC Class III Divisions 1, 2
NEMA 6P

0000000
000000
0-30
±0.25%
13 psi @ 70° F
5

3/4

"
1"
40
-10°
175°
Open Tank
Wire Leads
10V DC-35V DC
4 mA-20 mA
NEC Class I Divisions 1, 2 Groups A, B, C, D
NEC Class II Divisions 1, 2 Groups E, F, G
NEC Class III Divisions 1, 2
NEMA 6P

0000000
000000