Dial Hanging Scales

E
Style
Capacity
Accuracy
Graduations

Ht.

Wd.

Dp.

Ht.

Wd.

Each

Pounds

E
200 lbs.
±2 lbs.
2 lbs.
19

5/8

"
2

1/4

"
2

1/4

"
3"
1"
0000000
0000000
Compact
Legal-for-Trade

Digital Hanging Scales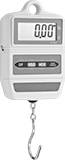 For use with materials sold by weight, these NTEP-approved scales are often used in space-constrained areas. The tare function lets you reset the scale to zero after hanging a container on the hook.
Capacity
Accuracy
Graduations

Ht.

Wd.

Dp.

Top Hook
Opening


Dia.

Hook
Material
Batteries
Included
Battery
Size
Number of
Batteries
Required
Features
Each
15 lbs. (6.8 kg)
±0.01 lbs. (±0.005 kg)
0.01 lbs. (0.005 kg)
11

1/8

"
4

3/4

"
2"

3/4

"
Steel
No
C
4
Tare Function
0000000
0000000
Washdown
Legal-For-Trade

Floor Scales with Remote Display

Scale

Ramp
These scales are NTEP approved as legal for trade and have an IP69K rated load cell for use in washdown environments. They withstand exposure to dust and moisture, including the frequent high-pressure, high-temperature washdowns commonly used in outdoor industrial environments, food processing facilities, and chemical plants. Plus, the scale-to-display junction box meets NEMA 4X standards for protection against washdowns and corrosion.
Also known as platform scales, these have a low profile so you only need to lift heavy objects 3" off the ground. Their stainless steel construction and a ribbed structural underside give them the necessary support to weigh thousands of pounds at a time. To keep items in place, a diamond tread on the platform provides slip resistance. The load cells in these scales are FM approved, so they've been tested for quality and safety by Factory Mutual.
Subtract the weight of a container with the tare function to weigh only the material inside. Use the counting mode to keep a running tally of how many items are on the scale.
Mount the remote display at a distance on a workstation, column, or wall—the connecting cable is 22 feet long. The backlit display features 1"-tall digits for easy reading.
Install optional ramps to slide or wheel heavy loads onto scales. If you install two ramps, they must be on opposite ends.
Capacity
Accuracy
Graduations

Wd.

Dp.

Material
Plug
Type
Cord


Lg.,




ft.

Mount.

Fasteners
Included
for Display

Mount.


Hole

Dia.


for Display
Features
Environmental
Rating
Each
Each

Grams,

Kilograms,

Ounces,

Pounds

2,500 lbs.
(1,130 kg)
±2.5 lbs.
(±1.13 kg)
0.5 lbs.
(0.2 kg)
36"
36"
Stainless Steel
Three Prong
8
No

9/16

"
Tare Function
Counting Mode
Print Function
IP69K, NEMA 4X
0000000
000000000
0000000
000000000
2,500 lbs.
(1,130 kg)
±2.5 lbs.
(±1.13 kg)
0.5 lbs.
(0.2 kg)
48"
48"
Stainless Steel
Three Prong
8
No

9/16

"
Tare Function
Counting Mode
Print Function
IP69K, NEMA 4X
0000000
00000000
0000000
00000000
5,000 lbs.
(2,260 kg)
±5 lbs.
(±2.26 kg)
1 lbs.
(0.5 kg)
48"
48"
Stainless Steel
Three Prong
8
No

9/16

"
Tare Function
Counting Mode
Print Function
IP69K, NEMA 4X
0000000
00000000
0000000
00000000
5,000 lbs.
(2,260 kg)
±5 lbs.
(±2.26 kg)
1 lbs.
(0.5 kg)
60"
60"
Stainless Steel
Three Prong
8
No

9/16

"
Tare Function
Counting Mode
Print Function
IP69K, NEMA 4X
0000000
00000000
000000
00000000
10,000 lbs.
(4,530 kg)
±10 lbs.
(±4.53 kg)
2 lbs.
(1 kg)
48"
48"
Stainless Steel
Three Prong
8
No

9/16

"
Tare Function
Counting Mode
Print Function
IP69K, NEMA 4X
0000000
00000000
0000000
00000000
10,000 lbs.
(4,530 kg)
±10 lbs.
(±4.53 kg)
2 lbs.
(1 kg)
60"
60"
Stainless Steel
Three Prong
8
No

9/16

"
Tare Function
Counting Mode
Print Function
IP69K, NEMA 4X
0000000
00000000
000000
00000000