Straight Line Scribers

Also known as a marking gauge, this scriber draws precise, straight lines without the need for a straightedge or ruler. Lock the sliding head in place at the desired length and use it as a guide as you drag the scriber along the edge of your work surface.
Scribers with Base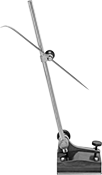 Also known as surface gauges, use these to scribe lines, transfer measurements, or as height and depth gauges. They have a V-groove base that can be used on round or flat surfaces.
Gauge pins can be pushed down for use against the edge of a surface plate or T-slot for linear work.
Tip Style
Scriber


Lg.

Lg.

Dia.

Lg.

Wd.

Material
Adjustment
Method
Manufacturer
Manufacturer
Model Number
Each

With 2 Gauge Pins

90° Angle
8

1/2

"
18"

3/8

"
3

3/4

"
3

3/8

"
Cast Iron
Screw
Starrett
57D
000000
0000000
Curved
6"
12"

5/16

"
3"
2

1/2

"
Cast Iron
Screw
Starrett
57B
000000
000000

With 4 Gauge Pins

90° Angle
8

1/2

"
18"

3/8

"
3

1/2

"
3

1/4

"
Steel
Screw
Starrett
257D
000000
000000
Curved
6"
12"

5/16

"
2

7/8

"
2

3/8

"
Steel
Screw
Starrett
257B
000000
000000