Build-Your-Own

Level Indicators with

Shut-Off

Valve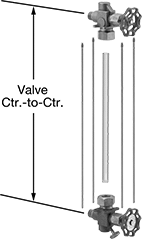 Combine a pair of valves with a gauge glass and four guard rods to build a complete level indicator. All valves include an automatic shut-off. To determine the length of gauge glass needed, subtract 2" from the valve center-to-center length. Then, choose a gauge glass based on the liquid pressure.
Note: Pressures listed are subject to the limitations of the gauge glass.
Iron valves withstand higher pressures than bronze valves.
316 stainless steel valves are more corrosion resistant than iron or bronze valves.
Use bronze rods with bronze and iron valves.
Use 303 stainless steel rods with 316 stainless steel valves. They are more corrosion resistant than bronze rods.
For technical drawings and 3-D models, click on a part number.
Pipe
Size

Thread
Type
Gender
OD
Wall


Thick.

Pipe
Size
Thread
Type
Gender

Max.


Pressure

Min.

Max.

For
Use
With
Pair

Bronze

1/2

NPT

Male

5/8

"

3/32

"

3/8

NPT

Female
165 psi @ 300° F
-20°
300°
Water, Hydraulic Fluid, Diesel Fuel
000000
0000000

3/4

NPT

Male

3/4

"

7/64

"

3/8

NPT

Female
335 psi @ 300° F
-20°
300°
Water, Hydraulic Fluid, Diesel Fuel
000000
000000

Iron

1/2

NPT

Male

5/8

"

3/32

"

3/8

NPT

Female
375 psi @ 300° F
-20°
300°
Water, Hydraulic Fluid, Diesel Fuel
0000000
000000

3/4

NPT

Male

3/4

"

7/64

"

3/8

NPT

Female
375 psi @ 300° F
-20°
300°
Water, Hydraulic Fluid, Diesel Fuel
0000000
000000

316 Stainless Steel

1/2

NPT

Male

5/8

"

3/32

"

3/8

NPT

Female
500 psi @ 300° F
-325°
300°
Water, Hydraulic Fluid, Diesel Fuel
0000000
000000

3/4

NPT

Male

3/4

"

7/64

"

3/8

NPT

Female
500 psi @ 300° F
-325°
300°
Water, Hydraulic Fluid, Diesel Fuel
0000000
000000
Lg.

Temp.

Range


Max.,

°F

Liquid
Steam

1-5

6-Up

Glass

5/8"

OD,

3/32"

Wall

Thick.

8"
425°
435 psi @ 150° F
320 psi @ 425° F
0000000
000000
000000
9"
425°
420 psi @ 150° F
315 psi @ 425° F
0000000
00000
00000
10"
425°
420 psi @ 150° F
315 psi @ 425° F
0000000
00000
00000
11"
425°
410 psi @ 150° F
305 psi @ 425° F
0000000
00000
00000
12"
425°
410 psi @ 150° F
305 psi @ 425° F
0000000
00000
00000
13"
425°
390 psi @ 150° F
295 psi @ 425° F
0000000
00000
00000
14"
425°
390 psi @ 150° F
295 psi @ 425° F
0000000
00000
00000
15"
425°
380 psi @ 150° F
290 psi @ 425° F
0000000
00000
00000
16"
425°
375 psi @ 150° F
285 psi @ 425° F
0000000
00000
00000
17"
425°
360 psi @ 150° F
280 psi @ 425° F
0000000
00000
00000
18"
425°
360 psi @ 150° F
280 psi @ 425° F
0000000
00000
00000
20"
425°
350 psi @ 150° F
270 psi @ 425° F
0000000
00000
00000
22"
425°
335 psi @ 150° F
265 psi @ 425° F
0000000
00000
00000
23"
425°
320 psi @ 150° F
255 psi @ 425° F
0000000
00000
00000
24"
425°
320 psi @ 150° F
255 psi @ 425° F
0000000
00000
00000
30"
150°
280 psi @ 150° F
Not Rated
0000000
00000
00000
36"
150°
245 psi @ 150° F
Not Rated
0000000
00000
00000
42"
150°
195 psi @ 150° F
Not Rated
0000000
00000
00000
48"
150°
195 psi @ 150° F
Not Rated
0000000
00000
00000

3/4"

OD,

7/64"

Wall

Thick.

8"
425°
425 psi @ 150° F
315 psi @ 425° F
0000000
00000
0000
9"
425°
410 psi @ 150° F
310 psi @ 425° F
0000000
00000
00000
10"
425°
410 psi @ 150° F
310 psi @ 425° F
0000000
00000
00000
11"
425°
400 psi @ 150° F
300 psi @ 425° F
0000000
00000
00000
12"
425°
400 psi @ 150° F
300 psi @ 425° F
0000000
00000
00000
13"
425°
385 psi @ 150° F
290 psi @ 425° F
0000000
00000
00000
14"
425°
385 psi @ 150° F
290 psi @ 425° F
0000000
00000
00000
15"
425°
375 psi @ 150° F
285 psi @ 425° F
0000000
00000
00000
16"
425°
370 psi @ 150° F
280 psi @ 425° F
0000000
00000
00000
17"
425°
355 psi @ 150° F
275 psi @ 425° F
0000000
00000
00000
18"
425°
355 psi @ 150° F
275 psi @ 425° F
0000000
00000
00000
20"
425°
345 psi @ 150° F
265 psi @ 425° F
0000000
00000
00000
22"
425°
330 psi @ 150° F
260 psi @ 425° F
0000000
00000
00000
23"
425°
315 psi @ 150° F
250 psi @ 425° F
0000000
00000
00000
24"
425°
315 psi @ 150° F
250 psi @ 425° F
0000000
00000
00000
30"
150°
275 psi @ 150° F
Not Rated
0000000
00000
00000
36"
150°
240 psi @ 150° F
Not Rated
0000000
00000
00000
42"
150°
190 psi @ 150° F
Not Rated
0000000
00000
00000
48"
150°
190 psi @ 150° F
Not Rated
0000000
00000
00000

Glass with

Easy-View

Red Line

5/8"

OD,

3/32"

Wall

Thick.

8"
425°
370 psi @ 150° F
280 psi @ 425° F
0000000
00000
00000
9"
425°
345 psi @ 150° F
275 psi @ 425° F
0000000
00000
00000
10"
425°
345 psi @ 150° F
275 psi @ 425° F
0000000
00000
00000
11"
425°
335 psi @ 150° F
275 psi @ 425° F
0000000
00000
00000
12"
425°
335 psi @ 150° F
275 psi @ 425° F
0000000
00000
00000
13"
425°
325 psi @ 150° F
270 psi @ 425° F
0000000
00000
00000
14"
425°
325 psi @ 150° F
270 psi @ 425° F
0000000
00000
00000
15"
425°
315 psi @ 150° F
265 psi @ 425° F
0000000
00000
00000
16"
425°
315 psi @ 150° F
265 psi @ 425° F
0000000
00000
00000
17"
425°
305 psi @ 150° F
260 psi @ 425° F
0000000
00000
00000
18"
425°
305 psi @ 150° F
260 psi @ 425° F
0000000
00000
00000
20"
425°
290 psi @ 150° F
260 psi @ 425° F
0000000
00000
00000
22"
425°
265 psi @ 150° F
250 psi @ 425° F
0000000
00000
00000
23"
425°
265 psi @ 150° F
250 psi @ 425° F
0000000
00000
00000
24"
425°
265 psi @ 150° F
250 psi @ 425° F
0000000
00000
00000
30"
150°
235 psi @ 150° F
Not Rated
0000000
00000
00000
36"
150°
205 psi @ 150° F
Not Rated
0000000
00000
00000
42"
150°
165 psi @ 150° F
Not Rated
0000000
00000
00000
48"
150°
165 psi @ 150° F
Not Rated
0000000
00000
00000

3/4"

OD,

7/64"

Wall

Thick.

8"
425°
360 psi @ 150° F
280 psi @ 425° F
0000000
00000
00000
9"
425°
340 psi @ 150° F
275 psi @ 425° F
0000000
00000
00000
10"
425°
340 psi @ 150° F
275 psi @ 425° F
0000000
00000
00000
11"
425°
330 psi @ 150° F
275 psi @ 425° F
0000000
00000
00000
12"
425°
330 psi @ 150° F
275 psi @ 425° F
0000000
00000
00000
13"
425°
320 psi @ 150° F
270 psi @ 425° F
0000000
00000
00000
14"
425°
320 psi @ 150° F
270 psi @ 425° F
0000000
00000
00000
15"
425°
310 psi @ 150° F
265 psi @ 425° F
0000000
00000
00000
16"
425°
310 psi @ 150° F
265 psi @ 425° F
0000000
00000
00000
17"
425°
300 psi @ 150° F
260 psi @ 425° F
0000000
00000
00000
18"
425°
300 psi @ 150° F
260 psi @ 425° F
0000000
00000
00000
20"
425°
285 psi @ 150° F
260 psi @ 425° F
0000000
00000
00000
22"
425°
260 psi @ 150° F
250 psi @ 425° F
0000000
00000
00000
23"
425°
260 psi @ 150° F
250 psi @ 425° F
0000000
00000
00000
24"
425°
260 psi @ 150° F
250 psi @ 425° F
0000000
00000
00000
30"
150°
230 psi @ 150° F
Not Rated
0000000
00000
00000
36"
150°
200 psi @ 150° F
Not Rated
0000000
00000
00000
42"
150°
160 psi @ 150° F
Not Rated
0000000
00000
00000
48"
150°
160 psi @ 150° F
Not Rated
0000000
00000
00000