Flow Sights with Indicator for Water and Oil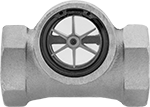 With Rotor Indicator and Front and Back Windows
The indicator moves when flow is present, so it's easy to visually confirm flow from a distance.
Sights with a 316 stainless steel body are more corrosion resistant than sights with a brass or bronze body.
Rotor indicator is the most obvious indicator of flow for maximum visibility.
Back window can be backlit to increase the visibility of dark liquids.
For technical drawings and 3-D models, click on a part number.
Pipe
Size

Thread
Type
Gender

Temp.




Range,




°F

Dia.

Type

End-to-End




Lg.

Ht.

Max.


Pressure
Direction
of
Flow
Material
Each

Rotor Indicator

316 Stainless Steel Body

1/4

NPT

Female
40° to 200°
1

5/8

"
Front and Back
3"
2

1/8

"
125 psi @ 70° F
Left to Right, Right to Left
316 Stainless Steel
0000000
0000000

3/8

NPT

Female
40° to 200°
1

5/8

"
Front and Back
3"
2

1/8

"
125 psi @ 70° F
Left to Right, Right to Left
316 Stainless Steel
0000000
000000

1/2

NPT

Female
40° to 200°
2"
Front and Back
4"
2

1/2

"
125 psi @ 70° F
Left to Right, Right to Left
316 Stainless Steel
0000000
000000

3/4

NPT

Female
40° to 200°
2"
Front and Back
4"
2

1/2

"
125 psi @ 70° F
Left to Right, Right to Left
316 Stainless Steel
0000000
000000
1

NPT

Female
40° to 200°
2"
Front and Back
4

3/8

"
2

1/2

"
125 psi @ 70° F
Left to Right, Right to Left
316 Stainless Steel
0000000
000000
1

1/4

NPT

Female
40° to 200°
2"
Front and Back
4

3/8

"
2

1/2

"
125 psi @ 70° F
Left to Right, Right to Left
316 Stainless Steel
0000000
000000
1

1/2

NPT

Female
40° to 200°
2

7/8

"
Front and Back
5

1/2

"
4"
125 psi @ 70° F
Left to Right, Right to Left
316 Stainless Steel
0000000
000000
2

NPT

Female
40° to 200°
2

7/8

"
Front and Back
5

1/2

"
4"
125 psi @ 70° F
Left to Right, Right to Left
316 Stainless Steel
0000000
000000