High-Pressure

Oil-Level

Indicators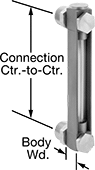 With NPTF And NPT Threads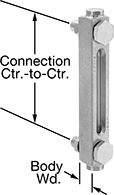 With UNF Threads and
15/16"
and
1 1/8"
Body
Wd.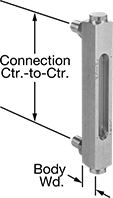 With UNF Threads and
7/8"
Body
Wd.
Monitor hydraulic fluid or oil level in pressurized applications. These indicators mount from the outside of your tank, except indicators with a 7/8" body width, which mount to the inside of your tank and let you view the fluid level from the front.
304 stainless steel indicators are more corrosion resistant that aluminum indicators.
Connection


Ctr.-to-Ctr.

Overall


Ht.

Window


Ht.

Body


Wd.

For

Max.


Tank
Wall

Thick.

Max.


Pressure

Min.

Max.

Fitting
Material
Window
Material
Includes
Each

Aluminum

1/4

NPTF Male Thread

5"
6

5/8

"
3

1/2

"
1

13/16

"
__
290 psi @ 70° F
-40°
250°
Brass
Glass
__
0000000
000000
6"
7

5/8

"
4

1/2

"
1

13/16

"
__
290 psi @ 70° F
-40°
250°
Brass
Glass
__
0000000
00000
7"
8

5/8

"
5

1/2

"
1

13/16

"
__
290 psi @ 70° F
-40°
250°
Brass
Glass
__
0000000
00000
8"
9

5/8

"
6

1/2

"
1

13/16

"
__
290 psi @ 70° F
-40°
250°
Brass
Glass
__
0000000
00000
9"
10

5/8

"
7

1/2

"
1

13/16

"
__
290 psi @ 70° F
-40°
250°
Brass
Glass
__
0000000
00000
10"
11

5/8

"
8

1/2

"
1

13/16

"
__
275 psi @ 70° F
-40°
250°
Brass
Glass
__
0000000
00000
12"
13

5/8

"
10

1/2

"
1

13/16

"
__
270 psi @ 70° F
-40°
250°
Brass
Glass
__
0000000
00000
15"
16

5/8

"
13

1/2

"
1

13/16

"
__
260 psi @ 70° F
-40°
250°
Brass
Glass
__
0000000
00000
18"
19

5/8

"
16

1/2

"
1

13/16

"
__
240 psi @ 70° F
-40°
250°
Brass
Glass
__
0000000
00000
24"
25

5/8

"
22

1/2

"
1

13/16

"
__
210 psi @ 70° F
-40°
250°
Brass
Glass
__
0000000
00000

3/8

NPTF Male Thread

5"
6

5/8

"
3

1/2

"
1

13/16

"
__
290 psi @ 70° F
-40°
250°
Brass
Glass
__
0000000
00000
6"
7

5/8

"
4

1/2

"
1

13/16

"
__
290 psi @ 70° F
-40°
250°
Brass
Glass
__
0000000
00000
7"
8

5/8

"
5

1/2

"
1

13/16

"
__
290 psi @ 70° F
-40°
250°
Brass
Glass
__
0000000
00000
8"
9

5/8

"
6

1/2

"
1

13/16

"
__
290 psi @ 70° F
-40°
250°
Brass
Glass
__
0000000
00000
9"
10

5/8

"
7

1/2

"
1

13/16

"
__
290 psi @ 70° F
-40°
250°
Brass
Glass
__
0000000
00000
10"
11

5/8

"
8

1/2

"
1

13/16

"
__
275 psi @ 70° F
-40°
250°
Brass
Glass
__
0000000
00000
12"
13

5/8

"
10

1/2

"
1

13/16

"
__
270 psi @ 70° F
-40°
250°
Brass
Glass
__
0000000
00000
15"
16

5/8

"
13

1/2

"
1

13/16

"
__
260 psi @ 70° F
-40°
250°
Brass
Glass
__
0000000
00000
18"
19

5/8

"
16

1/2

"
1

13/16

"
__
240 psi @ 70° F
-40°
250°
Brass
Glass
__
0000000
00000
24"
25

5/8

"
22

1/2

"
1

13/16

"
__
210 psi @ 70° F
-40°
250°
Brass
Glass
__
0000000
00000

1/2

NPTF Male Thread

5"
6

5/8

"
3

1/2

"
1

13/16

"
__
290 psi @ 70° F
-40°
250°
Brass
Glass
__
0000000
00000
6"
7

5/8

"
4

1/2

"
1

13/16

"
__
290 psi @ 70° F
-40°
250°
Brass
Glass
__
0000000
00000
7"
8

5/8

"
5

1/2

"
1

13/16

"
__
290 psi @ 70° F
-40°
250°
Brass
Glass
__
0000000
00000
8"
9

5/8

"
6

1/2

"
1

13/16

"
__
290 psi @ 70° F
-40°
250°
Brass
Glass
__
0000000
00000
9"
10

5/8

"
7

1/2

"
1

13/16

"
__
290 psi @ 70° F
-40°
250°
Brass
Glass
__
0000000
00000
10"
11

5/8

"
8

1/2

"
1

13/16

"
__
275 psi @ 70° F
-40°
250°
Brass
Glass
__
0000000
00000
12"
13

5/8

"
10

1/2

"
1

13/16

"
__
270 psi @ 70° F
-40°
250°
Brass
Glass
__
0000000
00000
15"
16

5/8

"
13

1/2

"
1

13/16

"
__
260 psi @ 70° F
-40°
250°
Brass
Glass
__
0000000
00000
18"
19

5/8

"
16

1/2

"
1

13/16

"
__
240 psi @ 70° F
-40°
250°
Brass
Glass
__
0000000
00000
24"
25

5/8

"
22

1/2

"
1

13/16

"
__
210 psi @ 70° F
-40°
250°
Brass
Glass
__
0000000
00000

3/4

NPTF Male Thread

5"
6

5/8

"
3

1/2

"
1

13/16

"
__
290 psi @ 70° F
-40°
250°
Brass
Glass
__
0000000
00000
6"
7

5/8

"
4

1/2

"
1

13/16

"
__
290 psi @ 70° F
-40°
250°
Brass
Glass
__
0000000
00000
7"
8

5/8

"
5

1/2

"
1

13/16

"
__
290 psi @ 70° F
-40°
250°
Brass
Glass
__
0000000
00000
8"
9

5/8

"
6

1/2

"
1

13/16

"
__
290 psi @ 70° F
-40°
250°
Brass
Glass
__
0000000
00000
9"
10

5/8

"
7

1/2

"
1

13/16

"
__
290 psi @ 70° F
-40°
250°
Brass
Glass
__
0000000
00000
10"
11

5/8

"
8

1/2

"
1

13/16

"
__
275 psi @ 70° F
-40°
250°
Brass
Glass
__
0000000
00000
12"
13

5/8

"
10

1/2

"
1

13/16

"
__
270 psi @ 70° F
-40°
250°
Brass
Glass
__
0000000
00000
15"
16

5/8

"
13

1/2

"
1

13/16

"
__
260 psi @ 70° F
-40°
250°
Brass
Glass
__
0000000
00000
18"
19

5/8

"
16

1/2

"
1

13/16

"
__
240 psi @ 70° F
-40°
250°
Brass
Glass
__
0000000
00000
24"
25

5/8

"
22

1/2

"
1

13/16

"
__
210 psi @ 70° F
-40°
250°
Brass
Glass
__
0000000
00000
3"
4

5/8

"
1

1/2

"
1

1/8

"

1/2

"
290 psi @ 70° F
-40°
250°
Aluminum
Glass
Mounting Nuts
0000000
00000
5"
6

5/8

"
3

1/2

"

7/8

"

3/4

"
290 psi @ 70° F
-40°
250°
Aluminum
Glass
Mounting Nuts
0000000
00000
5"
6

5/8

"
3

1/2

"
1

1/8

"

1/2

"
290 psi @ 70° F
-40°
250°
Aluminum
Glass
Mounting Nuts
0000000
00000
6"
7

5/8

"
4

1/2

"

7/8

"

3/4

"
290 psi @ 70° F
-40°
250°
Aluminum
Glass
Mounting Nuts
0000000
00000
6"
7

5/8

"
4

1/2

"
1

1/8

"

1/2

"
290 psi @ 70° F
-40°
250°
Aluminum
Glass
Mounting Nuts
0000000
00000
7"
8

5/8

"
5

1/2

"
1

1/8

"

1/2

"
290 psi @ 70° F
-40°
250°
Aluminum
Glass
Mounting Nuts
0000000
00000
9"
10

5/8

"
7

1/2

"

7/8

"

3/4

"
290 psi @ 70° F
-40°
250°
Aluminum
Glass
Mounting Nuts
0000000
00000
9"
10

5/8

"
7

1/2

"
1

1/8

"

1/2

"
290 psi @ 70° F
-40°
250°
Aluminum
Glass
Mounting Nuts
0000000
00000
10"
11

5/8

"
8

1/2

"
1

1/8

"

1/2

"
275 psi @ 70° F
-40°
250°
Aluminum
Glass
Mounting Nuts
0000000
00000
12"
13

5/8

"
10

1/2

"
1

1/8

"

1/2

"
270 psi @ 70° F
-40°
250°
Aluminum
Glass
Mounting Nuts
0000000
00000

304 Stainless Steel

1/4

NPT Male Thread

3"
4"
1

1/2

"

15/16

"
__
125 psi @ 70° F
0°
300°
304 Stainless Steel
Glass
__
00000000
000000
5"
6"
3

1/2

"

15/16

"
__
125 psi @ 70° F
0°
300°
304 Stainless Steel
Glass
__
00000000
000000
6"
7"
4

1/2

"

15/16

"
__
125 psi @ 70° F
0°
300°
304 Stainless Steel
Glass
__
00000000
000000
7"
8"
5

1/2

"

15/16

"
__
125 psi @ 70° F
0°
300°
304 Stainless Steel
Glass
__
00000000
000000
9"
10"
7

1/2

"

15/16

"
__
125 psi @ 70° F
0°
300°
304 Stainless Steel
Glass
__
00000000
000000
10"
11"
8

1/2

"

15/16

"
__
125 psi @ 70° F
0°
300°
304 Stainless Steel
Glass
__
00000000
000000
12"
13"
10

1/2

"

15/16

"
__
125 psi @ 70° F
0°
300°
304 Stainless Steel
Glass
__
00000000
000000

3/8

NPT Male Thread

3"
4"
1

1/2

"

15/16

"
__
125 psi @ 70° F
0°
300°
304 Stainless Steel
Glass
__
00000000
000000
5"
6"
3

1/2

"

15/16

"
__
125 psi @ 70° F
0°
300°
304 Stainless Steel
Glass
__
00000000
000000
6"
7"
4

1/2

"

15/16

"
__
125 psi @ 70° F
0°
300°
304 Stainless Steel
Glass
__
00000000
000000
7"
8"
5

1/2

"

15/16

"
__
125 psi @ 70° F
0°
300°
304 Stainless Steel
Glass
__
00000000
000000
9"
10"
7

1/2

"

15/16

"
__
125 psi @ 70° F
0°
300°
304 Stainless Steel
Glass
__
00000000
000000
10"
11"
8

1/2

"

15/16

"
__
125 psi @ 70° F
0°
300°
304 Stainless Steel
Glass
__
00000000
000000
12"
13"
10

1/2

"

15/16

"
__
125 psi @ 70° F
0°
300°
304 Stainless Steel
Glass
__
00000000
000000

1/2

NPT Male Thread

3"
4"
1

1/2

"

15/16

"
__
125 psi @ 70° F
0°
300°
304 Stainless Steel
Glass
__
00000000
000000
5"
6"
3

1/2

"

15/16

"
__
125 psi @ 70° F
0°
300°
304 Stainless Steel
Glass
__
00000000
000000
6"
7"
4

1/2

"

15/16

"
__
125 psi @ 70° F
0°
300°
304 Stainless Steel
Glass
__
00000000
000000
7"
8"
5

1/2

"

15/16

"
__
125 psi @ 70° F
0°
300°
304 Stainless Steel
Glass
__
00000000
000000
9"
10"
7

1/2

"

15/16

"
__
125 psi @ 70° F
0°
300°
304 Stainless Steel
Glass
__
00000000
000000
10"
11"
8

1/2

"

15/16

"
__
125 psi @ 70° F
0°
300°
304 Stainless Steel
Glass
__
00000000
000000
12"
13"
10

1/2

"

15/16

"
__
125 psi @ 70° F
0°
300°
304 Stainless Steel
Glass
__
00000000
000000

3/4

NPT Male Thread

3"
4"
1

1/2

"

15/16

"
__
125 psi @ 70° F
0°
300°
304 Stainless Steel
Glass
__
00000000
000000
5"
6"
3

1/2

"

15/16

"
__
125 psi @ 70° F
0°
300°
304 Stainless Steel
Glass
__
00000000
000000
6"
7"
4

1/2

"

15/16

"
__
125 psi @ 70° F
0°
300°
304 Stainless Steel
Glass
__
00000000
000000
7"
8"
5

1/2

"

15/16

"
__
125 psi @ 70° F
0°
300°
304 Stainless Steel
Glass
__
00000000
000000
9"
10"
7

1/2

"

15/16

"
__
125 psi @ 70° F
0°
300°
304 Stainless Steel
Glass
__
00000000
000000
10"
11"
8

1/2

"

15/16

"
__
125 psi @ 70° F
0°
300°
304 Stainless Steel
Glass
__
00000000
000000