Liquid-Level

Gauges for Drums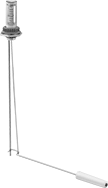 Vertical Mount

Horizontal Mount
Measure water, hydraulic fluid, or diesel fuel level in your drum.
Gauges with 316 stainless steel float rods are more corrosion resistant than gauges with zinc-plated steel float rods.
Vertical-mount gauges install through the top opening of your drum. They measure your liquid in gallons, liters, and volume fractions.
Horizontal-mount gauges install by attaching one pipe connection to the opening of a horizontal drum. Attach a drain or valve to the pipe connection on the other end. They have sliding markers for calibration and measure your liquid in gallons and liters.
For Drum


Capacity,




gal.

For
Drum


Dp.

Pipe
Size

Thread
Type
Gender

Dp.

Ht.

Window


Ht.

Max.




Pressure,


psi

Min.

Max.

Float
Material
Housing
Material
Window
Material
Graduation
Marks
Each

Vertical Mount

Zinc-Plated

Steel Float Rod

30
27

1/2

"

3/4

NPT

Male
2

1/2

"
18

1/2

"
3"
70
-20°
110°
Buna-N Rubber
Cellulose Acetate Plastic
Plastic
Full,

7/8

,

3/4

,

5/8

,

1/2

,

3/8

,

1/4

,

1/8

, Empty
0000000
000000
30
27

1/2

"
2

NPT

Male
2

1/2

"
18

1/2

"
3"
70
-20°
110°
Polyethylene Plastic
Cellulose Acetate Plastic
Plastic
Full,

7/8

,

3/4

,

5/8

,

1/2

,

3/8

,

1/4

,

1/8

, Empty
0000000
00000
55
33

1/2

"

3/4

NPT

Male
2

1/2

"
21

1/2

"
3"
70
-20°
110°
Buna-N Rubber
Cellulose Acetate Plastic
Plastic
Full,

7/8

,

3/4

,

5/8

,

1/2

,

3/8

,

1/4

,

1/8

, Empty
0000000
00000
55
33

1/2

"
2

NPT

Male
2

1/2

"
21

1/2

"
3"
70
-20°
110°
Polyethylene Plastic
Cellulose Acetate Plastic
Plastic
Full,

7/8

,

3/4

,

5/8

,

1/2

,

3/8

,

1/4

,

1/8

, Empty
0000000
00000

316 Stainless Steel Float Rod

30
27

1/2

"

3/4

NPT

Male
2

1/2

"
18

1/2

"
3"
70
-20°
110°
Buna-N Rubber
Cellulose Acetate Plastic
Plastic
Full,

7/8

,

3/4

,

5/8

,

1/2

,

3/8

,

1/4

,

1/8

, Empty
0000000
000000
30
27

1/2

"
2

NPT

Male
2

1/2

"
18

1/2

"
3"
70
-20°
110°
Polyethylene Plastic
Cellulose Acetate Plastic
Plastic
Full,

7/8

,

3/4

,

5/8

,

1/2

,

3/8

,

1/4

,

1/8

, Empty
0000000
000000
55
33

1/2

"

3/4

NPT

Male
2

1/2

"
21

1/2

"
3"
70
-20°
110°
Buna-N Rubber
Cellulose Acetate Plastic
Plastic
Full,

7/8

,

3/4

,

5/8

,

1/2

,

3/8

,

1/4

,

1/8

, Empty
0000000
000000
55
33

1/2

"
2

NPT

Male
2

1/2

"
21

1/2

"
3"
70
-20°
110°
Polyethylene Plastic
Cellulose Acetate Plastic
Plastic
Full,

7/8

,

3/4

,

5/8

,

1/2

,

3/8

,

1/4

,

1/8

, Empty
0000000
000000

Horizontal Mount

Steel Fitting

55
__

3/4

NPT

Male
4

1/2

"
22

1/8

"
19

5/8

"
Not Rated
35°
150°
__
Aluminum
Glass
5, 1
0000000
00000

PVC Plastic Fitting

55
__

3/4

NPT

Male
4"
22

1/8

"
19

5/8

"
Not Rated
40°
140°
__
Aluminum
Glass
5, 1
0000000
00000

304 Stainless Steel Fitting

55
__

3/4

NPT

Male
4

1/2

"
22

1/8

"
19

5/8

"
Not Rated
35°
150°
__
Aluminum
Glass
5, 1
0000000
00000