Machine Guards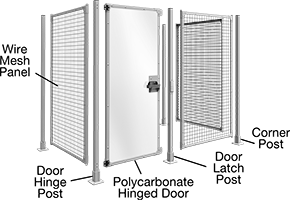 Combine posts, panels, and doors to create a barrier around equipment.
When standing on the side of the door that swings away from you, left-hand doors open to the left; right-hand doors open to the right.
Hinged doors have a slide-bolt latch.
Corner posts allow you to create a 90° corner with two panels. Inline posts allow you to connect two panels in a straight line.
The assembled width measures the installed width of a panel or door when mounted with posts on each side.